Ever since I started using my iPhone 4S I've been using Siri more and more. It's incredibly useful. Almost immediately I could see great benefits.
Walking to work – pick songs / playlists, make calls, read and compose text messages etc.. all without removing your phone from your pocket.
There's only one problem.. the standard iPhone headphones with the Apple mic are basically useless to me. They don't sit in my ears properly, and that makes an average pair of buds sound awful.
So I had an idea. Apples ear buds are smooth plastic. This clearly does nothing to help traction whilst in your ear – so I bought some foam / sponge earphone covers from Ebay costing the princely sum of £1-50 delivered to my door, and guess what… they make a huge difference!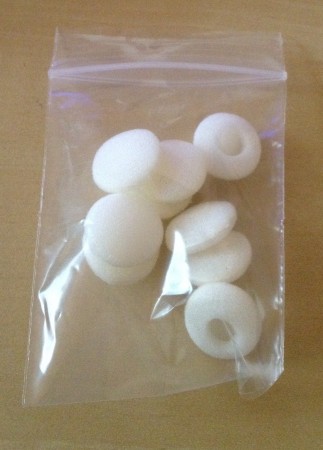 The buds now sit in my ears properly even whilst moving about, and music sounds MUCH better. Granted they still aren't going to replace a decent set of 'proper' ear buds, but they're now fine for my morning walk to work.
This has saved my spending £38 on a pair of 'proper' headphones with a built in mic, so I thought I'd share.
I'll shortly be doing an article on Siri in the car too, as talking to my car has appealed to me since I was a kid watching a certain TV show… 🙂