Vodafone have been shifting phones between Coming Soon and On Sale a lot recently, as just as we see the Nokia 800 move to Pre-Order, the Samsung Galaxy Nexus appears on the Coming Soon page allowing anyone intersted in this device to register your details to be the first to hear more news as it comes out.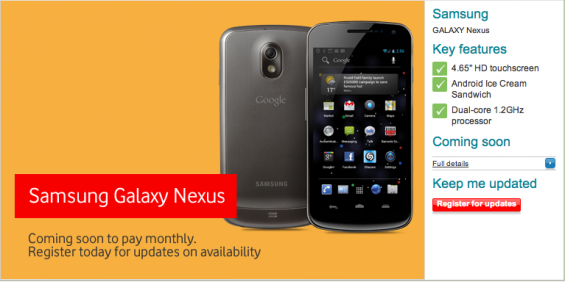 Whilst we still dont have any information on pricing or availability dates, this is a nice move to see an official page up and running so fingers crossed we will know more soon.
The Galaxy Nexus is the next generation in the 'Nexus' series after the Nexus S and Nexus One which both were available on Vodafone.  An advantage of the Nexus series is the generic version of Android it runs so when an update becomes available you will get it before the other manufacturers such as HTC and Samsung on their other Galaxy series.
Expect to see a full hands on preview of the Galaxy Nexus very shortly and of course more information as we get it