UK network Three has announced today that they have in stock and are now selling the new HTC Sensation XL which is the next step forward from the original Sensation
[yframe url='http://www.youtube.com/watch?v=390ybtdIAMU']
Featuring a larger 4.7 inch screen, 8 megapixel camera with better low light optics and Android Gingerbread giving you full access to all the recent apps on Android Market plus handy extras like Google Maps the HTC Sensation XL should be a big hit with customers.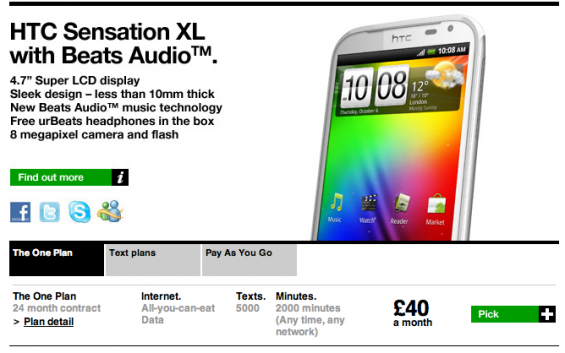 It is being offered free from £34 a month with the very popular 'One Plan' option costing you £40 a month but includes AYCE data use which is perfect for a phone such as this.
PAYG customers are not left out and can purchase the XL for £449.99 to use on PAYG or with an existing Sim Only contract
We are hoping to get a better hands on preview of the Sensation XL very soon!.
Link: Three UK
Available on Three – HTC Sensation XL with Beats Audio™.

The new HTC Sensation XL with Beats Audio™ – the long-awaited first smartphone from HTC and Beats – is now available to buy in Three stores and from Three.co.uk.

The HTC Sensation XL is a new Android smartphone with Beats Audio built in. Music lovers can enjoy a spectacular sound experience with the provided UrBeats™ in-ear headphones*. The luxury features also extend to the phone's slim 9.9mm thickness and its crisp white finishing.

The HTC Sensation XL comes equipped with an impressive 8MP camera, capable of taking wide angle and low light shots. Video can be recorded in HD and viewed on the handset's large 4.7" screen, and the speedy 1.5GHz processor lets people enjoy the apps, gaming and music experience of this entertainment rich phone.

Sylvia Chind, head of handsets at Three said "There has already been a lot of buzz about this entertaining new HTC phone. Three is the perfect partner for the Sensation XL as our all you can eat data offerings mean that people can enjoy the full world of media apps like Spotify and YouTube on the go, without worrying about receiving a shock when their bill arrives."

The HTC Sensation XL is available from £34 a month or £40 a month on The One Plan with all-you-can-eat data, 2,000 anytime, any network minutes and 5,000 texts.

PAYG customers can get the HTC Sensation XL for £449.99. All in One 15 costs £15 and gives 30-days access to all-you-can-eat data along with 300 any-network minutes and 3,000 texts. Or All in One 25 costs £25 and offers 500 minutes, 3,000 texts and all-you-can-eat data for a 30-day period.

Key features:

· UrBeats™ in-ear headphones

· Android 2.3.5 (Gingerbread) OS

· 1.5GHz Processor

· 4.7" WVGA S-LCD touchscreen

· Fast internet and e-mail access with HSDPA

· New 8MP with Low Light and Wide Angle Sensor

· Up to 16GB internal memory

*For the complete Beats Audio experience, UrBeats™ in-ear headphones required, included in box