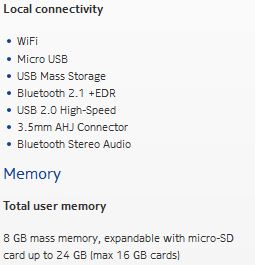 We mentioned this in Twitter feed and wanted to just clarify a few things. This morning we checked into the Nokia 800 and Nokia 710 specs and found that both pages listed "USB Mass Storage".
We've contacted Nokia and Microsoft to confirm whether USB Mass Storage is actually going to be available on these phones but haven't received a response as yet.
The 710 is listed as having a microSD card slot but the 800 isn't showing this on the Nokia site.
Mass storage isn't mentioned in the data sheets we've received so this could be a mistake on their website.
Update – It looks like Nokia have realised their mistake and removed the mention of "USB Mass Storage" and the microSD card slot which was showing on the Lumia 710 specs!