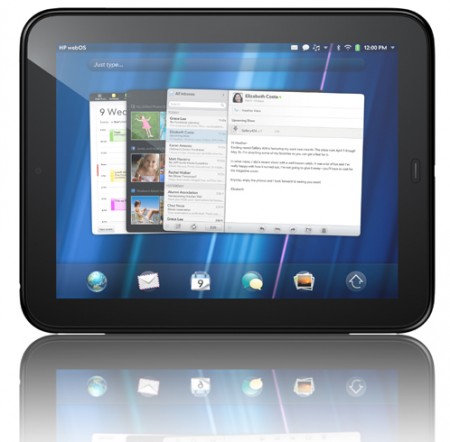 This week has been quite an eventful week for the HP TouchPad. Firstly HP actually released an update for it. Secondly the Cyanogen team working on the TouchPad also released an update.  The HP update had a lot of different bug fixes and features, the in depth details of which can be found here. In that long list of bug fixes there were two exciting sections. The first said the following :-
Phone
You can now pair a phone that is not a webOS phone to the TouchPad, so you can answer calls on the TouchPad.
NOTE:Most devices cannot send or receive SMS (text messages) from the TouchPad. The SMS Mirroring functionality needed to send and receive SMS from the TouchPad requires the Bluetooth Message Access Profile (MAP) to be supported by the phone.
So after reading that I got out my shiny new Samsung Galaxy S2 and paired it up to my TouchPad. It worked, I could send and receive text messages and make and receive phone calls all through my TouchPad. It sounds like some older phones that do not support the MAP Bluetooth profile will not fully be able to do this though. Let us know if you get it to work.
The second part of the update details that I found interesting was the following :-
Keyboard
Bluetooth keyboard pairing with generic keyboards has been simplified and now includes an automatically generated pairing code and instructions on how to pair.
So again after reading this I found an old Bluetooth keyboard. I could not get it to pair though. I am guessing here. It was probably the keyboards fault.
One thing I should note about this update is that the TouchPad is an awful lot more stable and a lot less laggy, during normal use. The severe lack of apps still annoys me. But at the moment I have it dual booting with Cyanogenmod 7, so any apps I would like are only a quick reboot away.
The Cyanogenmod update
The second exciting update for the HP TouchPad was from the Cyanogenmod team at Rootzwiki. They released an update for the TouchPad as well. This update basically ironed out a lot of the bugs in the first release. The only slight problem was getting this new update on the TouchPad. I had not noticed that the HP update had wiped the dual boot files from the TouchPad. When I tried to re-install these I broke my TouchPad quite badly. I eventually managed to re-install things in the right order though and it is back to normal now. Details on the CM7 update can be found here
So did any of you actually get a TouchPad? Have you put Android on it? Have you just made a nice big paper weight of it?