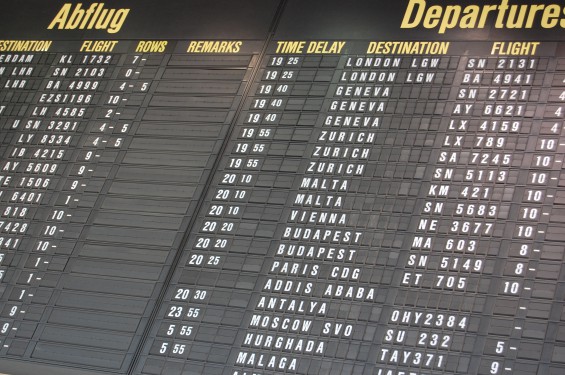 Working whilst travelling means having to adapt to a wide range of technology barriers, such as a lack of charging facilities, patchy WiFi / 3G coverage, limited packing space for every gadget, and bad data back ups. Although most travellers wouldn't think adding to their stack of gadgets would solve their problems, there are a few items that can make your life much easier. For any mobile professional, these are my five essential tools to add to any suitcase:
1. Universal charger
There are a number of universal chargers available on the market that will charge laptops, phones, tablets, and a host of other devices from one hub. By eliminating the need to pack every individual charger and keep the wires untangled, a universal charger can greatly simplify packing and keep important devices from going flat at crucial moments. They come in many models and sizes at a range of prices, so shop around before you buy to make sure that you have the right kind for your needs.
2. Bose Headsets
Whatever
Bose headset
you use, these extra powerful devices can make travelling much more relaxing. Use them to cancel out noise for a sleep on the plane or for making phone call audio clearer. The range of models make finding your ideal fit easier, plus they're not that hefty and fit neatly into your luggage.
3. Skype
Skype
is the leader in VoIP services, making it essential for keeping in touch while on the road. Skype can completely eliminate roaming charges on your cell phone bills, with the added capabilities of file sharing and video streaming. There are even Skype apps available for smartphones, so you can use its many features even when out and about sans laptop.
4. iPod Touch
The iPhone makes a great all-in-one gadget for any traveller, but some aren't willing to deal with the hefty monthly bill. The iPod Touch boasts all the same features for multitasking and is just as lightweight and portable. Connect to the internet anytime you have a free wi-fi signal, without worrying about data charges. With a service like
Clear Wireless Internet 4G
, you can create your own personal wifi hotspot on demand. You can connect your iPod Touch to the Internet anytime you like.
5. Portable Document Scanner
Keeping track of receipts, brochures, and other documents can be a pain when you're constantly on the go. Portable document scanners, often smaller than a folded umbrella, can solve those problems by turning your paper trail into PDF files.
What would you add ?