If you've got a BlackBerry (let's admit it, a few of us have to use them for work phones), then you'll probably have heard and experienced the issues they're having at the moment. It's another day of disruption and a rather worrying admission by RIM, who have tweeted news of a switch failure…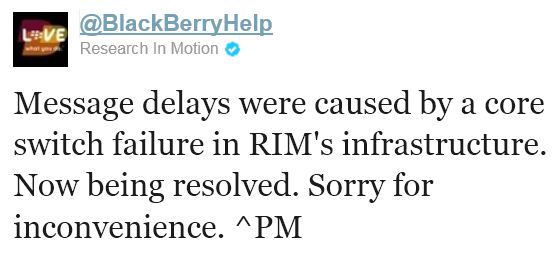 The issue has affected customers differently, with some seeing less issues than others.
Update – Looks like the worst is over, although the updates from their PR team have been sadly lacking…
RIM update: The messaging and browsing delays being experienced by BlackBerry users in Europe, the Middle East, Africa, India, Brazil, Chile and Argentina were caused by a core switch failure within RIM's infrastructure. Although the system is designed to failover to a back-up switch, the failover did not function as previously tested. As a result, a large backlog of data was generated and we are now working to clear that backlog and restore normal service as quickly as possible. We apologize for any inconvenience and we will continue to keep you informed.