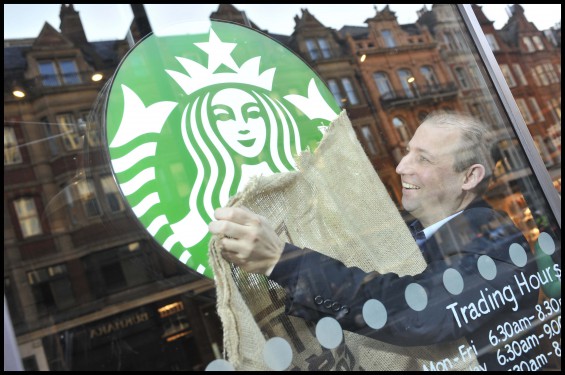 Getting a coffee today ? If you're a Starbucks customer you can now enjoy free WiFi – a service previously only available to members of their Rewards programme. Brian Waring, VP of Marketing for Starbucks UK & Ireland said..
Our customers told us that they liked our free Wi-Fi, but they wanted it to be easier and faster to access. Starbucks is a place to take time out, but it's also a social and digital hub and customers now expect to be able to connect with family and friends, find entertainment or even run their businesses from our stores. This summer the UK will have millions of visitors from around the world for London 2012 and they'll be able to stay in touch with a single click in Starbucks. This is one of many ways we're getting ready to welcome them.
So, next time you're standing behind a dazed first-time customer who's muttering "I just want a normal coffee, what do I do with all this choice?" Whip out your smartphone and get online via the BT Openzone network for free.
Link – Starbucks UK
Starbucks Free Wi-Fi goes 'one-click' for Customers

Two million customers a week to benefit from free high speed Wi-Fi

London, October 7 2011 – Starbucks has announced the launch of one click, free high-speed Wi-Fi access for all its customers in the UK. Customers with Wi-Fi enabled laptops, tablets and mobile phones now have unlimited Internet access to surf the Web and connect with social networks at over 650 company-owned stores across the country.

The move means that customers no longer have to be members of the Starbucks Rewards programme to access free Wi-Fi, and is a direct response to customers who were asking for a simplified service. The new, unlimited Wi-Fi offering features a one-click entry point, so a username or password will not be required.

The initiative reflects a broader move by Starbucks to prepare for the London 2012 Olympic and Paralympic Games. The challenge of greatly increased footfall and diverse international visiting customers is being met head on by the company. This includes a suite of store redesigns and openings, including in Westfield Stratford last month, and moves enabling customers to use Starbucks as a place to work and connect with friends.

Starbucks will continue to work with BT Openzone as its Wi-Fi provider, a relationship that's been in place since 2009 when free Wi-Fi for Starbucks Reward customers was launched. BT Total Broadband customers can download the handy BT FON app to their mobile devices, to map and connect to their nearest Starbucks.

Brian Waring, vp Marketing & Category for Starbucks UK & Ireland said: "Our customers told us that they liked our free Wi-Fi, but they wanted it to be easier and faster to access. Starbucks is a place to take time out, but it's also a social and digital hub and customers now expect to be able to connect with family and friends, find entertainment or even run their businesses from our stores. This summer the UK will have millions of visitors from around the world for London 2012 and they'll be able to stay in touch with a single click in Starbucks. This is one of many ways we're getting ready to welcome them."

Chris Bruce, CEO, BT Openzone said: "The UK is the most exciting place in the world in the run up the London 2012 Olympic and Paralympic Games. Starbucks is supporting small and medium businesses, commuters and visitors with free Wi-Fi, allowing them to work, send photos, videos and emails to share in the buzz."