Having followed the company Three (or 3 as they were originally known) since before they launched here in the UK back on the rather convenient date of 03/03/03 there has been a lot of changes to the company and their customer policy.
For quite a while after launch Three were the only company around offering 3G services here in the UK and the technology was supposed to be shown off by offering video downloads, multimedia content such as Premiership video clips of goals as they happened and face to face video calls.  However as hard as they tried this concept did not seem to take off and customers wanted to use the full internet to use their emails and own browsing content… this is where they hit  rather big wall which was known as the 'walled garden' to many people and basically was a system in place where customers could ONLY access content on the Planet 3 service like an intranet.
Various websites complaining about this went online and got a lot of support by customers and people wanting to join the network but this content block stayed in place for quite a while.
Back on 20th January 2006 (yes 2006!) I was given some information that Three were launching new data packs for customers to add to their account, 4 packs in total of which 2 were for data use on the phone and 2 were for on the phone and for getting onto the FULL internet but also allowed you to use tethering.
Data Casual cost £0 a month but gave 0 internet allowance, instead costing £2 per MB

Add Mobile Web was £2.50 for 5MB and then £2 per additional MB after that

Wireless Web 56 was £15 and gave you 56MB of use with additional costing £1 per MB


Wireless Web 512 was £45 and gave you 512MB of use with additional costing £1 per MB
I still remember being really excited about these options and added the Wireless Web 56 service onto my account straight away, and on the train to London for a What Mobile Forum meetup I remember tethering my phone for about 10 minutes to check emails and was amazed at being on the train with my laptop and a phone but on the internet!.
Of course this was back in 2006 before the big 'data boom' but 56MB for £15 was outstanding value and something some people decided to take up and use.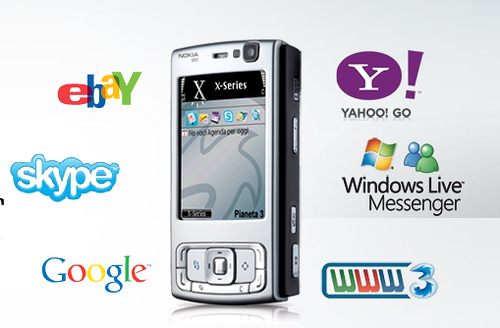 As phones became more advanced  and the demand for services started to be looked for Three launched an interesting idea called X-Series (for some reason) but this was a suite of services under a single fee you can add to your mobile to get move value from it.
Packages were X-Series Silver which gave you 1GB of data in a month plus access to free Skype phone calls, ORB so you can share your media between phone or computer, Yahoo for searching and email use, Ebay for mobile shopping, MSN for free instant messaging between devices and Google again for searching.
X-Series Gold gave you all the above plus access to Slingbox which was a small box you plug into your home broadband connection and your TV setup to be able to stream your TV on your mobile if you had a compatible phone.
£5 for Silver and £10 for Gold, X-Series was the start of the new data revolution giving customers a suite of apps to use plus a large amount of data use to do as you wish.  With X-Series came the launch of HSDPA on Three which gave speeds of 1.4mb/s which was great for downloding music from the music store on the phone but at launch only the LG U830 supported HSDPA but this was not classed as an X-Series phone so getting an upgrade to this and adding X-Series on for data use was going to be tough.
Fast forward to December 2010 with the news that Three are scrapping data fair use on their One Plan tariff giving customers All You Can Eat data on a Sim Only deal from £25 a month!.  I really put this to the test and followers of the site might remember the Data Challenge I did a while back using 46GB in a month with no charge!.
It really is interesting looking back over time at what we were getting for our money against what we are getting now and with the network improving from what was 1.4mb/s to now 21mb/s HSPA+, mobile internet is in demand no matter if you are just checking your emails daily or tethering, your using internet and the new technology provided to make your every day experience more enjoyable.
Early this month I was in London for 4 days and wanted to put data use to a real world test, not like before where I would just tether and download, I wanted to use all these great apps which were being talked about along side a data package to see how much fun it could be if you got the most from your phone.
Three kindly loaned me a Samsung Galaxy S2 to use and this was not only my phone but my camera and camcorder plus my modem to use with my MacBook Air.
Durung my 4 day trip I was able too:
Tether the phone to my laptop so I can use internet on the train into London which was just over 3hrs long. I was also able to plug in my headset and stream Spotify music.

Use Tube Map App from Android Market to check on underground line updates and plan my routes between hotel and places I wanted to see such as Madame Tussords and London Aquarium

Take photos whilst on the London Eye and post them onto both Twitter and Facebook whilst at the highest point.

Record videos to share on Facebook whilst in the Aquarium

Tether to my laptop when back in the hotel room

Check emails throughout the day and reply as they came in

Use Google Maps whilst on a 3 hour bus tour to be able to spot places I wanted to go back to, Star them in the app and then when the tour finished I could plan my way to these points of interest.


Check train times for coming home and getting platform number before the information board even had it displayed so I can get the seat of my choice
There was so much I could do it was great not having to worry about data use, the only worry was could the battery last out for everything I wanted to do!.
So if your using a smartphone at the moment, check out your App Store or Marketplace for apps, there is so much you can do on your phone you might just surprise yourself