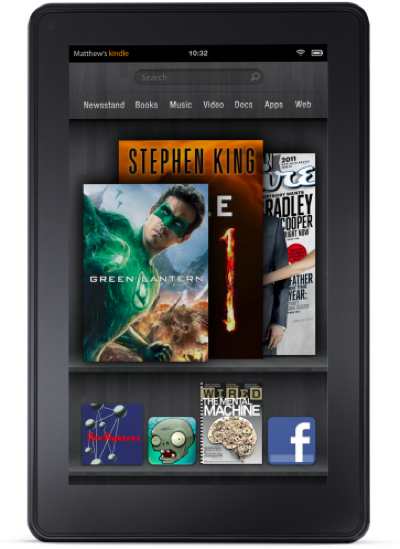 Amazon have today finally unveiled their long awaited Android tablet, and newest addition to their Kindle family, the Kindle Fire.
The device itself is a 7″ dual core tablet with an IPS display running Amazon's heavily reworked version of Android 2.3. However the standout feature is the price: $199 (approximately £127).  Amazon have described it as a premium product at a non-premium price and if the demos are anything to go by this looks spot on.
A big part of the low price is probably down to the Fire being a gateway to all of Amazon's online services. Stores for books, video, music and Amazon itself are ready and waiting to relieve you of your hard earned and US subscribers to Amazon Prime also get free access to thousands of movies and TV shows. There's clearly a hope that the cheap hardware will entice users to spend more of their time and money in Amazon's world.
The UI is almost unrecognisable from the Android we all know and love. It consists of a main section featuring a carousel of your recent content and a lower section featuring your favourite apps. The video below should give you a better idea.
[yframe url='http://www.youtube.com/watch?feature=player_embedded&v=3-oUrzy0Lvw']
Unfortunately there's no word yet on UK pricing or availability however if the newly announced standard Kindle is a guide expect the usual UK tax when it finally arrives. That's selling for $79 in the US and £89 over here.
What do you think about the Kindle Fire? Is this the tablet to finally give the iPad a run for its money?