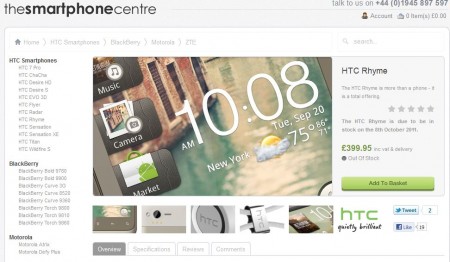 An all-new phone store has just opened up online. It's called The Smartphone Centre and they have some rather tasty deals available. We've already dealt with some of the people behind the company and they've loaned us handsets to review over the years, so they definitely get our seal of approval.
Completely web-based, all stock is sourced within the UK and is unlocked by default. They're set to receive stock of the HTC Sensation XE on October 3rd for £479.95 and the HTC Rhyme on October 8th for £399.95.
They also have the ZTE Skate arriving on September 27th for £214.95 plus the ZTE Libra for just £159.95.
Link – The Smartphone Centre
The Smartphone Centre

Press Release: Immediate Publication

The Smartphone Centre Ltd are pleased to announce the immediate launch of their brand
new website,

The Smartphone Centre Ltd has been developed to address an ever expanding and
confusing SIM Free smartphone market place.

The Smartphone market continues to grow at a rapid rate and with almost half of the UK
population accessing the web on their smartphone, the choice of handsets can be
confusing.

Our approach to providing simple unbiased assistance to customers of any technical
know-how has helped us achieve our goal. Combining over 25 years of smartphone
knowledge, we believe our approach is unique.

As a web based smartphone store, we are able to pass our savings direct to our
customers and we've been told our customers like this approach.

The Smartphone Centre Ltd have a strong partnership and work extremely closely with
HTC, BlackBerry, Motorola and ZTE to ensure we provide the very latest smartphones and
an affordable price.

All of our stock is sourced within the UK and is manufacture unlocked. This enables you to
stay with the network of your choice without having to worry about unlocking your
smartphone. We are provided with priority stock allocation and access to special offers on
new products providing us with an edge over our competitors.

The Smartphone Centre Ltd provide free standard delivery on all in-stock items, many of
which arrive the following day.

Our dedicated customer care team can be contacted by calling +44 (0)1945 897 597,
weekdays between 9am and 6pm or via email at any
time, [email protected] We are also available on Twitter;
@tsctweets.

For further information, please visit http://www.thesmartphonecentre.com/