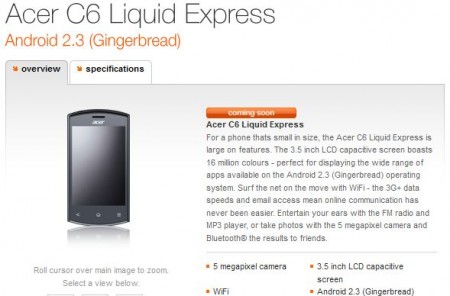 Another handset arriving on the Orange "coming soon" pages is the Acer C6 Liquid Express. It's a fairly dinky thing, measuring in at just 115×60.8×13.4, but it doesn't hold back on specs. Powered by Android 2.3, it has a 3.5″ LCD HVGA screen, 5 megapixel camera with flash, GPS, WiFi, FM radio and Blueooth.
This is a phone we've not really seen much of, but it's also known as the E320 and has an 800MHz Qualcomm MSM Turbo CPU.
We're guessing that this will be a fairly mid-range device with a price to reflect that, so sign up if you're interested.
Link – Orange.co.uk