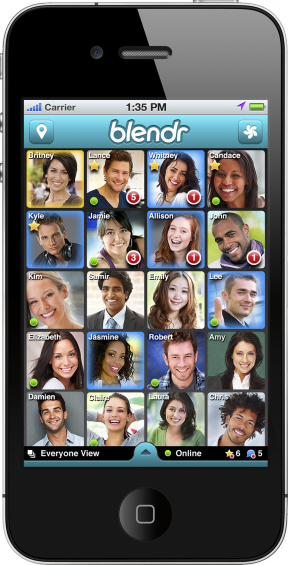 If you're gay you may have used the Grindr app to quickly locate and socialize with local men. Using GPS technology it'll map out other guys close to you, then you can share pictures and information straight away. Now the makers of that app have created Blendr, a new location-based social network to bring together local users with similar interests and common backgrounds.
The app will let you browse for users by location and chats to anyone you've spoken to recently. You can look into user profiles, photos and interests plus there's the chance to instant message, check-in and update your status on other social networks like Twitter, Foursquare and Facebook.
Available for iPhone, iPad and iPod Touch (they're currently working on other platforms), you can also grab the Facebook app and get social.
Link – Blendr.com
Social Networking Just Got Social with Debut of Blendr

Now Available on the iTunes App Store and as Facebook App

LOS ANGELES – The creators of Grindr today unveiled the name of the highly anticipated "Project Amicus" app. Dubbed Blendr, the revolutionary geo-social network aims to transform the way the world meets new people based on common interests. The location-based mobile app empowers users to make new social connections with people nearby who share similar interests, like to go to the same places or have a common background. The company today also released its Facebook app with many of the same rich functionality and features, enabling Facebook users to connect with the full Blendr network.

"Social networking just got 'social' and there's no easier way to meet new people that share your interests than with Blendr," said Joel Simkhai, Founder and CEO. "We've built Blendr to be the ultimate social compass for everyone to strike conversations with new people nearby and check out what's happening at surrounding venues in the moment."

With Blendr, users can discover new people based on a broad range of interest categories. For example, college students can interact and make new friends on campus and at concerts, while travelers can make new connections abroad, and sports fans can find other fellow enthusiasts.

Users can check-in to venues, browse how many others are at those venues, and determine whether to venture to the trending hot spot. Blendr is integrated with other social networks, directly allowing users to share and update their Blendr activity on Facebook, Twitter and Foursquare. Unlike other social networks that connect users to people and places they already know, Blendr facilitates the discovery of new people and places with secure privacy settings and rich features that give users total control of how they want to connect and interact with others.

Simkhai continued, "Smartphones and location-based services have completely transformed social interactions for everyone and we've taken our learning's from Grindr on creating an incredibly engaging consumer experience and loaded it with the most comprehensive privacy features to give users total control of how they want to interact within the Blendr community."

With Blendr, users can:

Browse for users by location, your favorites, those you've chatted with recently or those currently online.
Tap a photo to check out user profiles, photos, interests, and more.
Filter users by interest categories, such as Entertainment, Sports, Language, Profession, and more.
Check-in to nearby venues and keep up on the trending spots by seeing who and how many Blendr users have also checked in to help decide whether to venture there by seeing where people are (iOS only).
Start a private instant message conversation via Blendr chat.
Check your new friends' latest photos and status updates.
And directly update your status on other social networks, like Facebook, Twitter and Foursquare, within Blendr, making it even easier and more convenient to stay connected.

The Blendr App is available for free on the iPhone, iPad and iPod touch from the App Store or at www.blendr.com/itunes and the Blendr Facebook app is available at www.Blendr.com/FacebookApp.