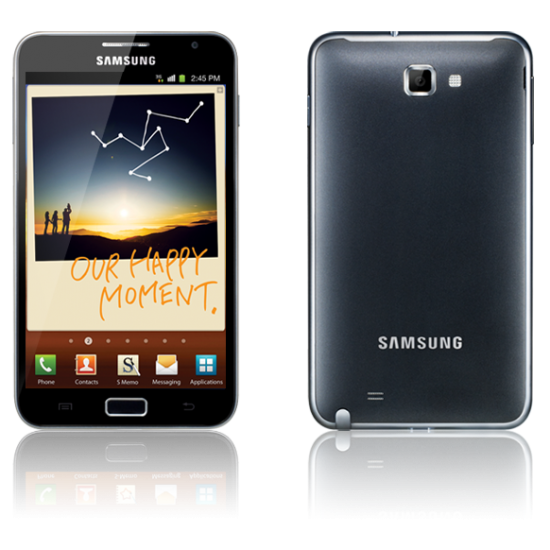 Yesterday HTC launched the HTC Titan. It's got a 4.7″ 480×800 pixel screen, but heck – Samsung have already gone one better with this, the Galaxy Note. Packing an amazing 5.3″ WXGA (1280×800) HD Super AMOLED screen it's somewhere between a phone and a tablet.
The specs reveal a blazing 1.4GHz Dual Core CPU, 4G LTE connectivity, Bluetooth v3.0, aGPS, WiFi, 3.5mm audio port and two cameras – an 8 megapixel with LED flash at the back and a 2 megapixel one up front. That 8 megapixel camera, by the way, will also do full 1080p HD video recording.
Samsung really have thrown everything into this one. It's powered by Android 2.3 (Gingerbread) with a 2500mAh battery and maintains the styling features of the existing Galaxy SII. There's 16GB of internal memory, an accelerometer, digital compass, proximity, barometer and light sensor.
Oh, and around the back you'll find one of those "pointy things" … I think they call it a "stylus". They were used quite a bit some years ago.
It looks like this will appear in the USA first but we'll keep you posted on availability.
http://www.youtube.com/watch?v=yRxjopfC1Gs
Click on for more pictures, videos and the full press release..
Link – Samsung.com – Benefits
http://www.youtube.com/watch?v=paxLc2bhRWU
http://www.youtube.com/watch?v=bfMmMrUwRnI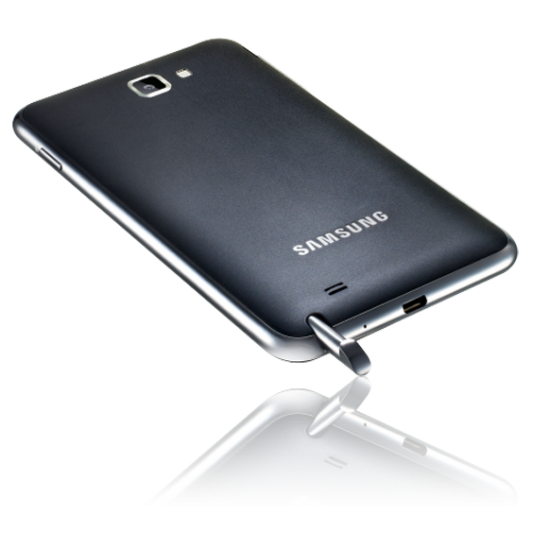 Samsung writes the next chapter of the mobile industry with the Samsung GALAXY Note

GALAXY Note combines the market's largest HD Super AMOLED display, supreme portability and advanced S Pen interface, creating a new type of smartphone

BERLIN, Germany – September 1, 2011 – Samsung Electronics Co., Ltd, a global leader in digital media and digital convergence technologies, announced today the launch of the GALAXY Note.

The GALAXY Note is a new category of product, developed through Samsung's deep consumer understanding and insight. It combines core on-the-go benefits of various mobile devices while maintaining smartphone portability, to create a whole new user experience.

The GALAXY Note has a 5.3" display which is the largest screen size with smartphone portability. It features the world's first and the largest 5.3" HD Super AMOLED display, an expansive high-resolution screen that provides an immersive viewing experience. Taking full advantage of the large display, users will be able to do more tasks to create and consume more, with minimum scrolling and screen transitions, while on the go. An advanced pen-input technology, called the S Pen, is combined with the GALAXY Note's full touch screen to introduce a new type of user-experience. Through this, consumers are able to freely capture and create ideas while on the go.

"The GALAXY Note is a device borne of our insight and innovation. We examined the fundamental elements of mobile culture, entertainment and communication in order to bring together the best experiences in a single, elegant device," said JK Shin, President and Head of Samsung's Mobile Communications Business. "The huge, 5.3" HD Super AMOLED screen is the largest, highest quality display available in any phone; the touch screen and S Pen combine to produce a uniquely accurate level of control and finesse, along with rich expressions across the GALAXY Note experience, enabling the introduction of new smartphone experiences."

"The artistic freedom of a paper notebook is coupled with the benefits of Samsung's smartphone technology and services, allowing users to create, edit and share with more style than ever before," Shin added.

State-of-the-art Display
The GALAXY Note features Samsung's own 5.3" HD Super AMOLED display providing vivid clarity that is superior to conventional HD displays. This ensures the best viewing experience for video, photo, document and web on the go with deep blacks and bright colors. The superior screen also offers a 180 degree viewing angle, allowing contents to be shared comfortably.

At 5.3" the best-in-class display is the largest ever included in a primary mobile device; measuring just 9.65mm thick, the GALAXY Note fits comfortably in a pocket to offer true portability.

Full Screen Utilization
The high resolution display ensures that PowerPoint presentations, web-pages, news apps and e-books can be viewed comfortably with minimal scrolling or zooming. Minimizing the need to switch between applications, the GALAXY Note's HD super AMOLED screen is large enough to allow meaningful split-screen operation in the most frequently used native apps.

Samsung has also included S Planner, a smart professional planning tool that makes full use of the device's large screen. The management planner integrates the phone's To-Do list and schedule; control and navigation is intuitive, helping users to comprehensively organize their lives.

Free Capture & Creation
The GALAXY Note's advanced pen input functionality is combined with the full touch screen to create a new input experience. The incorporated digital S Pen can be used for accurate sketching and artwork, and instantly capturing ideas freely before they float away.

The GALAXY Note features S Memo, a multimedia application designed to record all forms of user-created content. Pictures, voice recordings, typed text, handwritten notes or drawings can all be captured via a single application and converted to a 'memo', to be edited, annotated and shared as desired.

A one-step screen-capture function also allows users to instantly capture any screen; captured images can also be freely and accurately annotated using the S Pen before being filed or shared.

The S Pen functionality has been deeply integrated into the GALAXY Note's native applications to provide a richer interactive experience. Users will benefit from increased accuracy and control when editing or personalizing captured videos or photographs; and users will be able to draw and send handwritten images and notes via text message, email, and Samsung's ChatON communication service.

Broadening the opportunity to create new user experiences, Samsung plans to release the S Pen SDK allowing app developers to create fundamentally new applications and services incorporating the pen functionality.

Superior Usability, Powerful Performance
The 1.4GHz dual-core processor ensures the device is incredibly fast and a smooth user interface ensures seamless usability. Lightning fast network speeds are enabled through the HSPA+ and LTE-enabled device's super-fast connection, ensuring a quick and seamless browsing experience. This means that users can stream videos in real-time or engage with their friends through online gaming platforms.

Samsung is enhancing enterprise capabilities of the GALAXY Note through its partnership with Juniper Networks. Juniper's Junos Pulse SSL VPN provides secure remote access to corporate network resources. The SSL VPN enables large enterprise and service providers to meet high-volume secure access and authorization requirements, protecting corporate data with centralizes control and supporting employees' personal device efficiently.