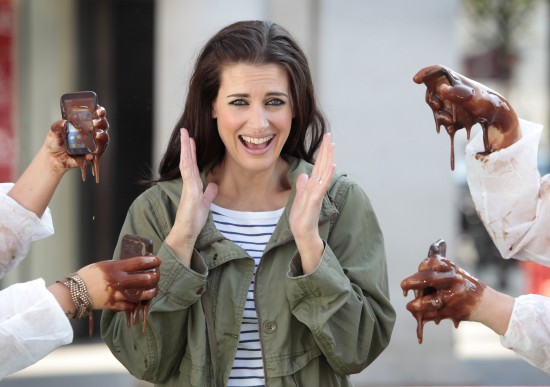 Whilst it may look a little strange, Kirsty Gallagher is helping Motorola show that their DEFY handset will survive the festival season. Kirsty avoids the mud in Covent Garden where visitors have the chance to win tents, festival tickets and sleeping bags. You can also enter by visiting www.festivalproof.com.
We gave the Motorola DEFY a good soaking during our review.
Link – Motorola DEFY Review – www.festivalproof.com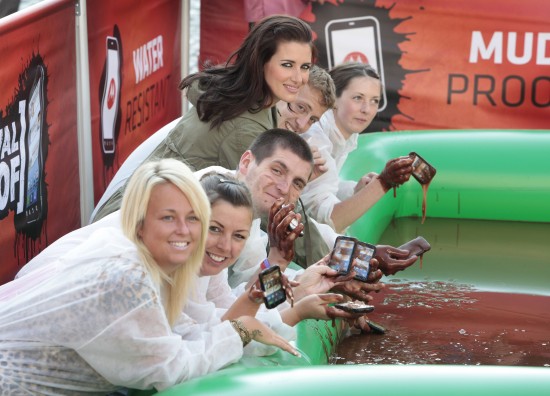 To celebrate the festival season, Motorola is hosting real life 'Mucky Dip' in London's iconic Covent Garden on Friday August 19th. With TV personality Kirsty Gallacher and a Kiss FM DJ to bring the festival atmosphere to life, lucky radio competition winners and passers-by will have the chance to dive head first into the mud filled 'Mucky Dip' to retrieve replica Motorola DEFY phones. Specially marked phones will entitle contestants to claim a range of exciting prizes including tents, sleeping bags and festival tickets.

A Kiss FM DJ will also be in residence in Covent Garden on Friday August 19th mixing a soundtrack of festival-favourites to get competitors in the mood to hunt for a Motorola DEFY.

Motorola's 'Life Proof' phone DEFY is the device for festival goers who want to stay connected whilst enjoying the music and atmosphere wherever they are, whatever the weather.

Festival lovers can visit www.festivalproof.com to pick a spot in a muddy festival field to win festival tickets and related items, as well as automatically be entered into the overall draw for a VIP trip to Ibiza. Alongside the game, the festival proof website also has highlights from this summer's best festivals and everything visitors need to know about the festival season.