LinkedIn ("Facebook for business" for the uninitiated) has always had a bit of a 'me-too' approach to its iPhone app. The interface of the previous incarnations of its application looked and felt like a sort of business-flavoured clone of the Facebook app, complete with a nine-icon grid for navigation to the key LinkedIn features.
The new app (free for iPad, iPhone and iPod Touch from the Appstore), so the Appstore descriptor tells me, has been reworked from the ground up, and it looks it. A much swooshier interface runs from a 'ribbon' of sorts that lines the top of the app. Tapping this (it looks like it needs a downward swoosh gesture, but none of that in this app) takes you to a much tidier four tile interface, and you can easily switch between viewing your contacts updates (Facebook equivalent: newsfeed), your own profile, your message inbox and your groups and contact recommendations.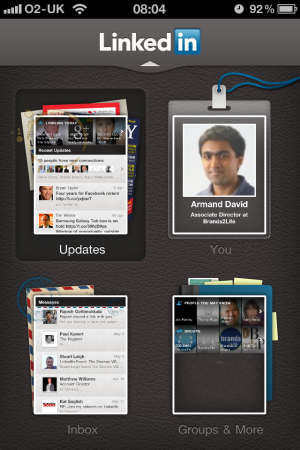 The contacts updates page also includes 'LinkedIn today', LinkedIn's effort to help you get meaningful news content from by tapping into the wisdom of your social graph; featured stories are those that are being shared and discussed by your professional contacts.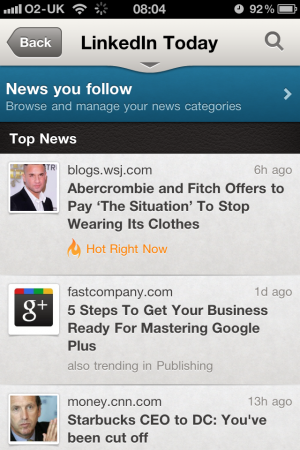 There's also one tap access to sharing status messages and one click access to searching your contacts, although the ability to simply browse through your contacts list seems to be gone.
Individual profile page and group UI is very slick – clean, modern, easy to read and navigate, and the app feels pretty responsive on an iPhone 4 – however I can imagine that the nice graphics and animated transitions put a bit more of a drain on the 3GS and below.
On the whole, LinkedIn's embrace of the 'less is more' philosophy to design seems to have served it well; the new app makes it considerably easier to access updates and news from your contacts and navigation around the app is quicker and simpler. However the absence of an overall contacts list seems an omission, as does contacts integration with the iPhone as a whole. Bring on v4.1!