Orange have today launched the Monte Carlo Android handset which looks to be the upgrade to the very popular San Fransisco we saw last year.
This new handset is packed full of features and comes free from £20 a month and just £149.99 on Pay As You Go.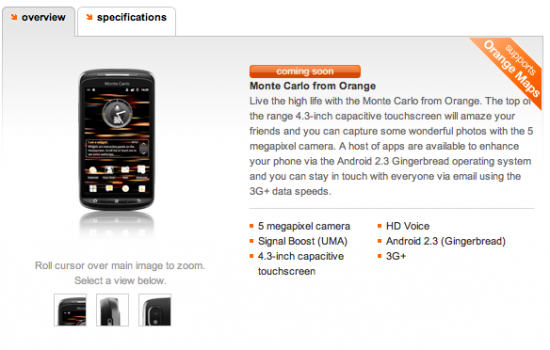 Conor from Orange has posted a great overview of the Monte Carlo which can be found below
[yframe url='http://www.youtube.com/watch?v=9VpbD1aEanw']
Main features include a 5 Megapixel camera, 800Mhz Processor, 4.3 inch screen, runs Android 2.3.4 Gingerbread and also features the HD Voice setup on the Orange network
Although still showing as Coming Soon on the Orange website, the video shows the Monte Carlo will be available this week!.
Link: Orange