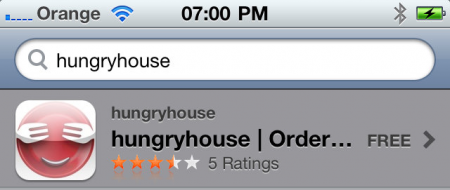 Now right away I can see advantages to this app. I travel frequently on business and am often looking through the Hotel's/B&B's brochures for local take-outs before making my mind up. In the past I've found that some unscrupulous take-outs remove competitors menu's from the stands.. oh dear. So you don't always have all the information at hand. Another distinct advantage is the customer reviews on individual take-outs. It's good to know that others found their food edible 🙂
Hungry House is a website which finds take-away outlets in your local area. They've just launched their iPhone application which features a personalised and real-time directory of takeaways, a choice of delivery slots, customer reviews, search filters, online payment, special offers and the ability to store locations.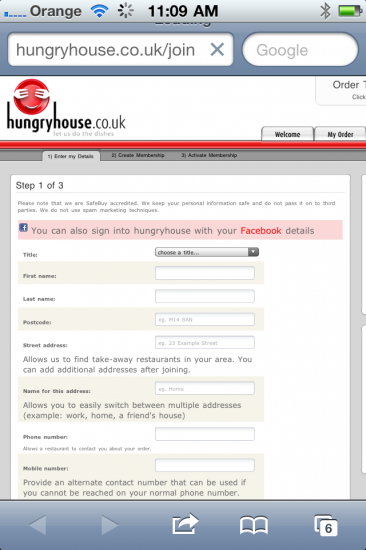 HungryHouse checks your current location and finds available take-outs in your area, not quite new but I like where this is going. There are 3 steps to setup your account…
Step 1: Enter my Details
Step 2: Create Membership
Step 3: Activate Membership
Simple enough, but having read in the app reviews that others have experienced the same thing I did. Even though you put in your address not all of it appears to the store. I received a call asking what the house number was.. whoops.. The setup was all straight forward and confirmation provided through email.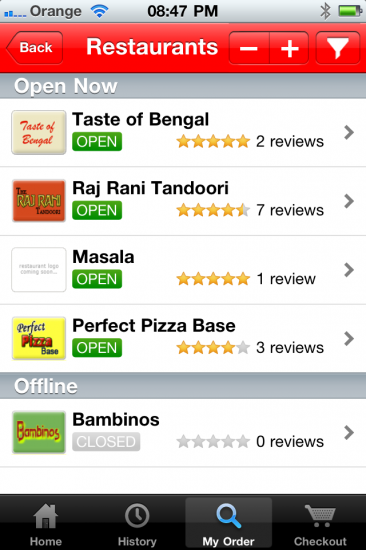 They even let you know if they open at the time of the search, how nice.. unfortunately only 5 take-outs were listed in the Harrogate area even though Harrogate has many take-out's. This is something I hope HungryHouse can address in the future – more restaurants need to be added. I thought I would try searching the Leeds L2 post code area and was happy that they were well covered in the larger cities.
I also checked Stoke-on-Trent in Staffordshire and they my have listings of maybe half of the available Take-out's so would hope they could recruit more of the larger town take-away's.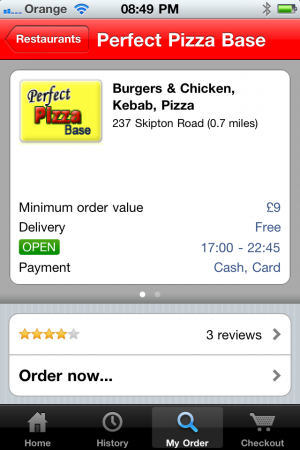 Back to the plus side again.. full menu's!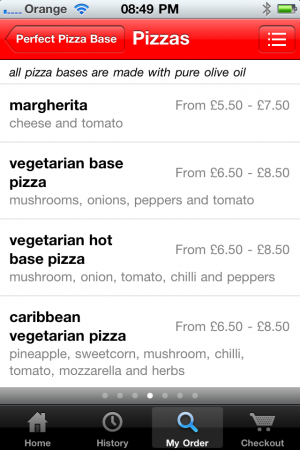 Fast and simple. So let's pay for our order..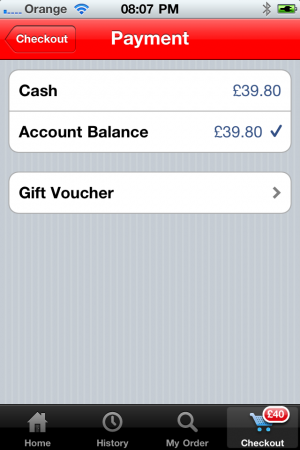 Now I'll admit this confused me at first… you pay into an account at Hungry House before you can buy food. Hungry House get their cut we assume. What you can do though is keep an amount in the account for when needed. Oh you do have the option to to pay cash still..
And it's as easy as that.. you may also remember them and their pitch on Dragons Den?
Part 1
[yframe url='http://www.youtube.com/watch?v=kzcQtXA5Gc8′]
Part 2
[yframe url='http://www.youtube.com/watch?v=MhKxPn_g_40′]
Overall, I liked it! Can't say the same for the pizza but it is an app I'll use again.
When you think about it larger chains are likely to use their own App's like Starbucks or Subway's but there are many other small businesses that this is definitely the answer for.
Link – Hungry House (iPhone App)