Available in three colours (gold, silver or charcoal), this is the new Huawei Vision. It's just 9.9mm at it's thinnest point and weighs "less than a bottle of aftershave" 😉 It's built with a unibody construction and has a 5 megapixel camera with 720P HD video recording.
Running on a 1GHz Qualcomm Snapdrago MSM 8255 CPU it also has Bluetooth 2.1, WiFi and a custom 3D interface designed by Huawei themselves. It'll be available from September and we're hearing that the UK will be among the first countries to receive it.
Update – We have the full Huawei Vision Factsheet available. It confirms Android 2.3, a 1400mAh battery, 3.7″ capacitive screen, aGPS, FM radio and a range of sensors.
Update – We've had it confirmed that the Huawei Vision will be available in the UK from "this Winter"
Link – www.huaweidevice.com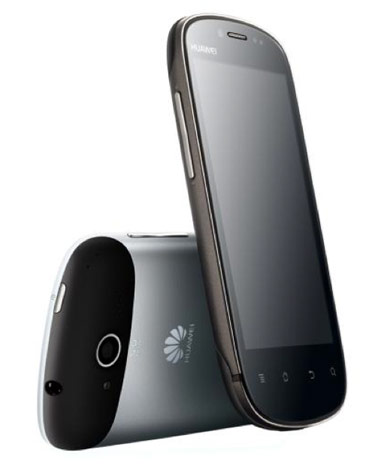 Introducing Vision, Huawei's stylish new smartphone

Huawei's sexiest smartphone to date also features 3D carousel user-interface

Beijing, 3 August 2011: Huawei, a leading telecom solutions provider, today launched Huawei Vision, Huawei's stylish new smartphone with a 3D user interface and carousel animation display. Huawei Vision runs on Android Gingerbread 2.3 OS and is supported by 1GHz Qualcomm Snapdragon MSM 8255-1 GHz processor. With its sleek design and powerful functionality, Huawei Vision is the perfect combination of technology and style.

Huawei Vision has an aluminum alloy uni-body in rose gold, silver or charcoal, and a curve touch design. Vision measures only 9.9mm at its thinnest point and at around 121g, weighs less than a bottle of perfume or aftershave. It supports 720P video recording and features a 5 megapixel auto focus camera with LED flash. With Bluetooth V2.1 with A2DP, high-speed WiFi 802.11b/g/n internet connectivity, and full range of messaging capabilities including SMS, MMS, Email, Push Mail and IM, makes staying connected with friends and family even easier.

"We are very excited to present Vision, the smartphone which strikes the perfect balance between technology and style," said Victor Xu, chief marketing officer of Huawei Device. "The unique 3D user interface heralds in a new era in Huawei's leadership, as we continue to create devices that enhance the user experience through stylish design and smart functionality."

Huawei Vision has a complete 3D mobile phone interface that bundles handset features into 3D panels on the home screen. The interface allows you to select any panel of the home screen with one easy swipe and makes it easy to prioritize the application view to suit your needs. With Vision's 3D interface, you can explore features and programs with a single tap.

Huawei Vision will be available in selected markets from September. Vision offers access to the full range of Android apps, and comes pre-installed with 'Angry Birds', 'Asphalt 6: Adrenaline', 'Order & Chaos Online', and 'Guerrilla Bob HD'.