Sorry about this, but I'm posting another story about a Beta test app. This time it's Touchpal.
Touchpal was on Windows mobile devices a few years ago, but has recently not been around, yesterday they tweeted asking for beta testers for their new android keyboard. I quickly replied and today they sent me the link to download the keyboard.
Touted as a 'Swype killer', it combines the swiping motion that keyboards like Swype and slide-it use as well as the more conventional touch input , but it also has clever predictive input much like swiftkey.
I've only been using it for a few hours, but my Twitter friends have been very interested, hence this post. There is a brief instructional section as well…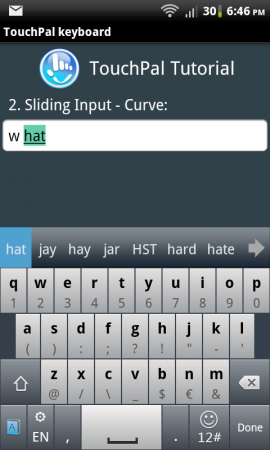 The swiping method seems to work nicely, very similar to Swype and out of the box it seems to work just as well, certainly for a massive swype fan like me it's good enough to be used as my main keyboard.
The touch input seems good, I'm not a fan of these keyboards, but it does seem to work well, whether it is as good as Swiftkey I wouldn't like to say!
Below is a couple of different keyboard options: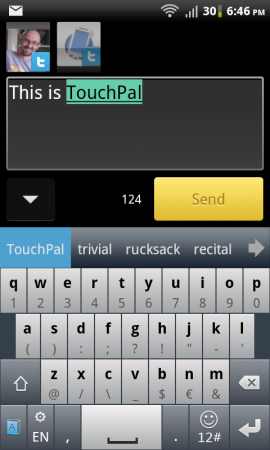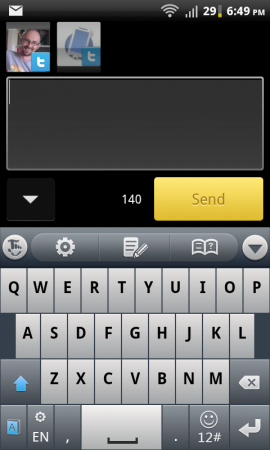 The best thing about this is you can swipe words but if it's getting confused you just switch to touch typing, so it's the best of both worlds- yes, in my opinion the touch input is better than Swype, swiping input is almost as good.
There seems to be lots of settings, but I've not really played much.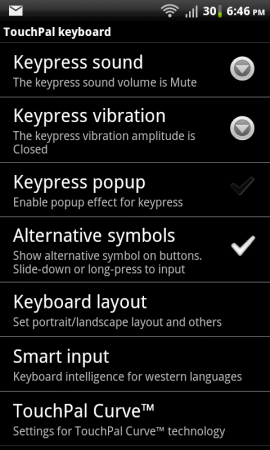 Now considering it's a beta test and I've only used it for a few hours i have to say it's rather good and looks like it'll find itself a place in the market when released.
To get a beta test you have to follow Touchpal and Retweet their tweet on the 27th of July to be invited.
Main Touchpal site: Touchpal
Please don't fill the comments section asking for the .apk! They seem to send out invites quite quickly.