I am pleased to announce the CoolSmartPhone RSS Application is now available in the Android Market as a FREE download.  This can be downloaded OTA (Over The Air) by either visiting http://market.android.com and searching for 'coolsmartphone' to send the application over the internet, or on your handset in the Market again by searching for 'coolsmartphone'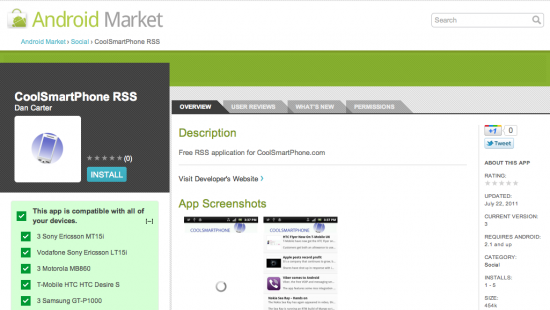 This is a very simple application which is linked to the sites RSS feed so if you are out and about and want to keep updated on all the goings on this is the app for you.  It is not fancy, not full of gadgets and gimmicks as I am  not a developer and have never done anything like this before, but is something I managed to put together to allow people to keep up with the news.
In time as the software used becomes more advanced we are looking at adding in support for images in the posts (at the moment it just shows the text), also sections for our YouTube videos,  twitter feed, photo album and also a special 'Live Events' tab so you can keep track of our news at big events such as event launches and the big Mobile World Congress.
We hope you enjoy using this application, at the moment Android 2.1 and over is supported with Windows Phone and iOS devices coming in the near future so look out for more news on these once they are available