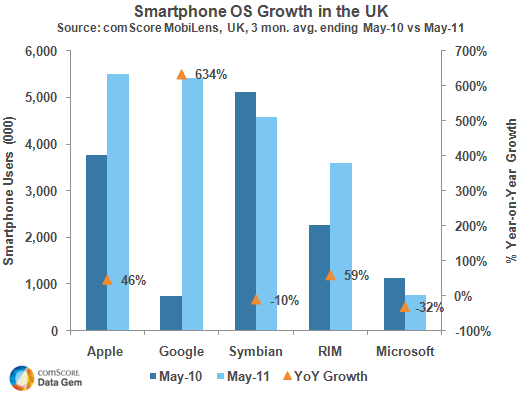 On Wednesday I took a train journey. It's always a good place to people-watch – lots of people travel alone and tend to fiddle with their phones. Looking round I saw Android, Apple and Symbian… a HTC Hero, a HTC Desire, another HTC Desire, a iPhone, another iPhone, a Desire S, a BlackBerry….
In reality, if we're brutally honest, Microsoft have tumbled down a cliff. A number of years ago the business people on the train would have a Pocket PC. Others would have Microsoft Smartphones. This week I didn't see any Windows Phone devices. That's not to say they're not out there, but Microsoft have taken a thumping, and it shows.
Now comScore are showing how things have shifted. A year ago 27% of customers had what's classed as a "smartphone". Now it's 42%. The top smartphone platform is Apple, who hold a 27.1% market share. Just behind, Android has a 26.7% share and Symbian has 22.5%.
Android has grown rapidly, with 4.7 million new users added in the last year – that's a 634% growth. Oh and yes, you read that right. Apple has grown by 46%, but there's some bad news for two big names.
Symbian, although still holding some strong numbers, have lost a 10% market share within the smartphone segment. Microsoft have dropped down by 32%. That's a pretty significant drop for Microsoft, who launched their new Windows Phone 7 OS and new range of phones some 9 months ago.
Link – comScore