Three have just sent out a press release stating the Optimus 3D is now available on their network here in the UK.  Costing £40 a month on The One Plan giving you AYCE Data this is a great deal for the latest in technology, there is also an option to buy outright on PAYG for £449.99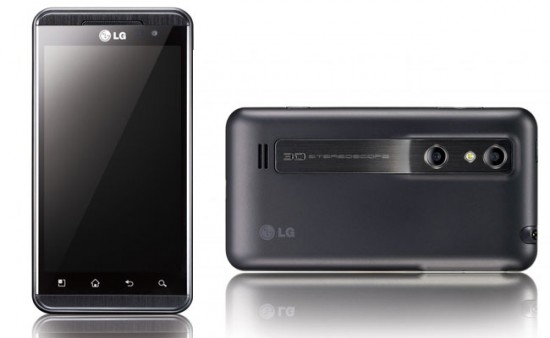 [yframe url='http://www.youtube.com/watch?v=uAz7d37feuM']

LG Optimus 3D – now available on Three.
The world's first 3D smartphone, the LG Optimus 3D, is available now on Three, online from 

www.Three.co.uk

.
The LG Optimus 3D's innovative 4.3" 'stereoscopic' touchscreen is capable of screening 3D content without glasses, whilst two inbuilt 5MP cameras also make it easy for people to create their own 3D videos in full high-definition.

Superior speed and power is also achieved with what LG is calling "tri-dual" core technology – a dual-core processor, dual cameras and dual-channel memory – enabling people to multitask, browse web pages, play the free preloaded games and watch movies more smoothly and speedily than ever before.

Sylvia Chind, Head of Handsets said "The 3D trend is red hot at the moment which is why we're particularly excited about bringing this handset to our customers. Coupled with Three's award winning network* our customers will experience a quick and reliable experience when enjoying their 3D content."

The LG Optimus 3D is available from £35 a month or £40 a month on The One Plan with all-you-can-eat data, 2,000 anytime, any network minutes and 5,000 texts.

PAYG customers can get the LG Optimus 3D for £449.99. All in One 15 costs £15 and gives 30-days access to all-you-can-eat data along with 300 any-network minutes and 3,000 texts. Or All in One 25 costs £25 and offers 500 minutes, 3,000 texts and all-you-can-eat data for a 30-day period.

Key features:

Glasses-free LCD panel for 3D viewing
Record, watch and game
3D enabling dualcore processor TI OMAP 4
Full HD 2D (1080p) / 3D (720p) video playback
4.3" stereoscopic screen
Dual stereoscopic 5MP cameras
Mini HDMI output
You Tube 3D
3 Pre-loaded games

*Three is rated as the best network for speed, overall quality, ease of use and customer satisfaction by UK Smartphone customers (YouGov).