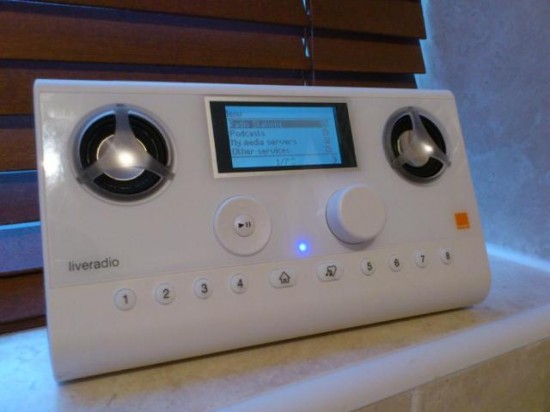 I've always liked internet radios. These are boxes which look and operate like normal FM or DAB radios with audio instead coming from audio streams on the web.
This is the Orange Liveradio, which is available from the Orange Accessories website and on eBay. With DAB radio coverage being "iffy" at best I've used an internet radio for some time. This one is powered by mains but also charges some AA batteries (supplied) so that you can unplug and carry it around the house. 4000 stations are available and you can add your own.
If I'm honest this unit has been around for a number of years now and has recently gone into the clearance section of the Orange Accessories website. Everything still works as expected though and, for the price (around £25-£29) it's a very nice device indeed.
The instructions are clear and concise. It'll get you hooked onto any wireless router without much fuss and the controls are easy enough to figure out even without the manual. The speakers may seem small but give a definite "oomph" and a deep bass response. On the front 8 preset keys let you hop into various saved radio stations and there's a wide range to choose from.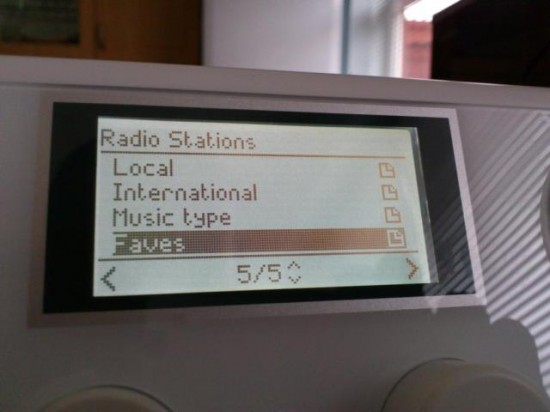 If your favourite station isn't listed you can add it in, although the email address you're meant to email ([email protected]) doesn't work because the domain isn't registered.
There's a wide range of features too. You can plug in a USB key and play and MP3 stored on it easily and you can do the same with PC's or servers on your local network sharing music too. There's a podcast section, an audio book section, audio backgrounds and alarm tones.
Once you're hooked onto the web you can browse to Liveradio website and interact with your device. You can create your own folder, add stations into it and move things around – even allocate your preset keys from the comfort of your PC.
What I really liked about this was the price, the portability (I stuck it in the bathroom while bathing my son), the sound quality was great, the batteries had no problems (an on-screen indicator shows how your signal and battery is performing) and the audio streams are sorted into type or location. The addition of the USB playback and speedy boot time was good to see and the build quality is fantastic.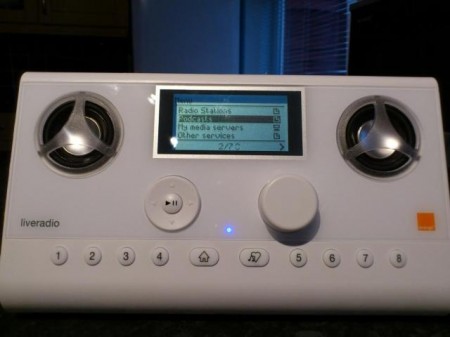 Orange. I liked this. More internet radios should be on the market like this. The only thing preventing the rise and rise of kit like this is bandwidth capping and traffic-shaping by ISP's. It's a fantastic device which picked up WAY more stations than any DAB or FM radio station I've ever had and I can carry it around the house with the in-built handle.
If you see one of these knocking around eBay, give it a spin.
Links – Slideshow – Orange Accessories – Liveradio.orange.co.uk