Tablets, we love them. The electronic ones too. Today an email popped into my inbox about a brand new one, but it's not powered by Android, iOS or Windows. This is the first tablet aimed squarely at children and, whilst my three-year-old is more than happy playing with an iPad, this probably be just as popular as the Leapster Explorer.
The new "LeapPad" has a build-in camera and motion sensors with over 100 educational games already available. It's up for pre-order on June 29th.
Just don't tell anyone that LeapFrog have already made a product called the LeapPad.. OK ? 🙂
Link – LeapPad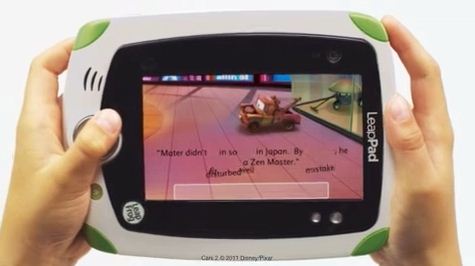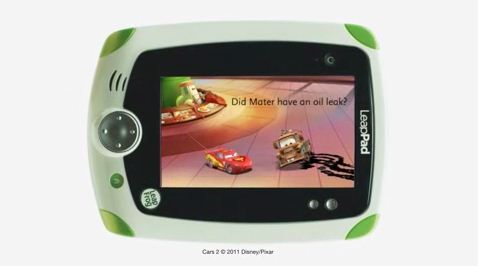 LEAPFROG UNVEILS LEAPPAD EXPLORER™,

A NEW BREAKTHROUGH LEARNING TABLET BUILT JUST FOR KIDS

LeapFrog creates the future of learning…again

This Summer, LeapFrog is unveiling the highly anticipated LeapPad Explorer™, a multifunctional learning tablet device that introduces the next generation of learning, digital reading and personal creativity for children ages 4 and up. LeapPad Explorer will be available from July 2011 in global English markets and will have a RRP price of £79.99 in the UK.

LeapPad Explorer builds on the success of 2010's award winning handheld; Leapster Explorer and is designed to change the way children learn and play.

LeapPad Explorer is just like an adult tablet, but with endless fun experiences for kids, housed in a durable package. The new device combines the latest technology, educational curricula, and entertainment properties.

Key features:
• Largest-ever learning library at launch: 100+ learning games, videos, e-Books, flash cards and more, featuring kid's favourite characters. Fully compatible with the existing Leapster Explorer library

• Education: From spelling and maths to creativity, science, music, geography and more. The nifty stylus also lets children perfect their writing skills

• Creativity: The first tablet device with a built-in camera, video recorder, microphone and animation studio, allowing for creative exploration that can be shared with family and friends

• Personalisation: Automatically adjusts the learning across all 100+ experiences so children can learn at their own pace

• Engagement: Accelerometer and 5" brilliant colour touch screen create an interactive experience that puts kids in the middle of the action with HD-like graphics

• Durability: Sleek and thin in its design, the LeapPad Explorer can also withstand rough play and is designed for little hands

As with all LeapFrog learning products, LeapPad Explorer will help children with their vocabulary, phonics and improve their reading skills whilst also featuring fun and interactive elements like embedded games and animated stories.

LeapPad Explorer is also designed to inspire curious minds and spark the imagination with a complete collection of innovative creativity tools including a camera, video recorder, and microphone that allow children to express themselves and share their unique creations with family and friends. Kids can have fun with school subjects like phonics, maths and science, and then take their learning beyond the basics to geography, world languages, music, creativity and important life skills like brushing their teeth! As children embark on new learning adventures, they can also practice their writing skills with step-by-step instructions and a child-sized stylus.

As with all LeapFrog connected products, LeapPad Explorer will allow parents to track their child's progress and achievements with the LeapFrog Learning Path. Parents receive regularly e-mailed updates so they can share their child's accomplishments, gain insight into where their child may need additional support and find new ideas for even more learning fun.

Chris Spalding, senior vice president for EMEA and Asia at LeapFrog, said: "LeapFrog created the first interactive learning experience with the iconic and original LeapPad learning system in 1998. After more than ten years of research into the most proficient ways for children to learn, we are doing it again with LeapPad Explorer, a multifunctional learning tablet that will ignite children's imaginations and learning, whilst providing fantastic entertainment for all the family. We believe this will be the must-have gift for all little learners from 2011 and beyond."

Availability
Available from Summer 2011, LeapPad Explorer will be sold at RRP £79.99, with downloadable applications and game cartridges at £19.99 (In the U.S. at $99.99 & $24.99). LeapPad Explorer will be available at all major retailers in the UK, U.S., Canada, Ireland, Australia, New Zealand, South Africa, Hong Kong, Singapore, Philippines, Taiwan, Korea & Thailand.

About LeapFrog
LeapFrog Enterprises, Inc. (NYSE: LF), is a leading designer, developer, and marketer of innovative, technology-based learning products and related proprietary content, dedicated to making learning effective and engaging for all ages, at home and in schools, around the world. The company was founded in 1995 and is based in Emeryville, California. LeapFrog has developed a family of learning platforms that come to life with more than 100 interactive software titles, covering important subjects such as phonics, reading, writing, math, music, geography, social studies, spelling, vocabulary, and science. In addition, the company has created more than 35 stand-alone educational products for children from birth to 16 years.