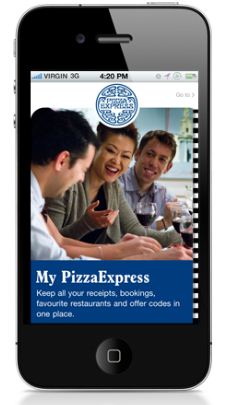 Pizza Express and PayPal today have together released an app for the iPhone. The idea is to go into a Pizza Express restaurant and have some food. When you ask for the bill you pay with your phone.
There are five key features on the new PizzaExpress iPhone app that allow customers to do the following:
– Pay Your Bill – use the app to pay for their meal using their PayPal account or an existing credit or debit card.
– Find and Book – find their nearest restaurant, get directions and book a table.
– My PizzaExpress – keep track and save their receipts, bookings and favourite restaurants, while enabling them to take advantage of any offers and vouchers at the touch of a button.
– Our Menu – find information on everything they need to know including our food – prices and ingredients.
– Settings – change their personal settings, as well as accessing our FAQs and T&Cs.
This is how the app works –

– Step 1. Once you have placed your order in any one of our 384 restaurants, you can ask for your bill whenever you want. Whether that is when you place your order, at some point during your meal or at the end of the meal. It is up to you.
– Step 2. All you have to do is click on our app, select the Pay Your Bill' option and enter the 12 digit code, which will be clearly marked on the bottom of your bill.
– Step 3. Once your bill appears, you can check the amount on the app matches your bill and add a tip if you wish.
– Step 4. You will also have the option to redeem against a valid offer code or voucher and your total bill amount will be automatically amended.
– Step 5. Then log in to your PayPal account or enter your credit or debit card details and press Pay Now'.
– Step 6. Once payment is received the app will send you and our tills a confirmation that will let us both know you have paid. You will also receive an email confirming your payment and you can view your full receipt in the My Receipts' section of the app.
This is an interesting app because it marks PayPal making a move towards the high street. What other shops or restaurants will release similar apps?. Will this type of app be released for Android or Blackerry?. These are questions I hope to hear about soon. this sort of app could easily become a viable alternative to nfc payments for devices that do not have the nfc chip in. Interesting times are ahead.
I would love to try this app out, but I don't have an iphone. If any of you who do have one would like to try this let us know how you got on.
Link – Pizza Express