The Sony Ericsson X10 has been plagued with problems since its initial release. Poor stock software, no multi touch, stuck on Android 1.6 for a while or the locked down bootloader. Sony Ericsson initially said no updates to a higher version of Android would appear for the X10. They also said that multi touch was not possible because of hardware restrictions.
Sony Ericsson solved a few of these problems with a recent update to Android 2.1 which also included multi touch. Sony Ericsson have also said a new update to Android 2.3 will soon be available. Gingerbread has already been ported to the X10, its just this will be an official update. Below is a shot of the X10 with the new ROM on it, you can just make out "Android 2.3.3" in the middle of the screen.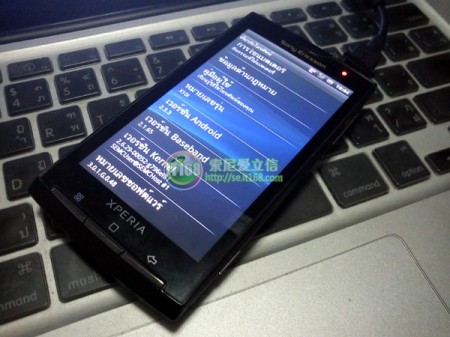 Over on XperiaX10.net they have found footage of the rom in action in Thailand, it seems to have been filmed in a phone shop. Also various threads are appearing on Modaco and XDA saying that they have the ROM and they are working on it. These appear to be fakes, but it is an indicator something is coming. The official update is meant to be the 20th of June, but this is for non carrier devices. I imagine if you have a carrier device you will not see this update, you will have root your device and install a custom version of it. Do let us know if you get this update on the 20th.
Source XperiaX10.net