This won't be as in depth As James's excellent recommended app features, but a friend has just joined the Android owning world and asked me if there was a visual voicemail app? I thought I would quickly flag this up.

I've been using HulloMail for about a year now, mainly because I was on a network that charged for retrieving your voicemail, Hullomail is (almost) completely free ! ( See below though…)
Screenshot of your recent missed calls and messages: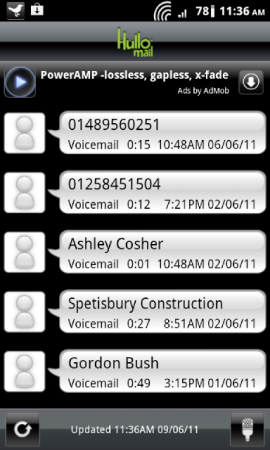 Basically HulloMail is an App for your smartphone that can be set to retrieve all your missed calls and voicemails, it uses your minute allowance to retrieve your messages, so do check you have enough spare.
Edit: Hullomail have replied to our questions to clarify the minutes and data usage, they said:
" Data to retrieve messages and send hullos, but to pay for the divert (When you get VM) the operator uses your minutes "
Screenshot of individual message: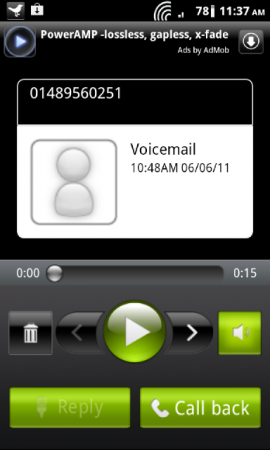 You simply click on the message in the list and then press the play button, dragging to play counter back and forward if required to a certain place in the message, jolly useful when someone has left a number and blurted it out too quickly for you to write down!
There is also the option to copy the messages to your email, but I personally haven't tested this.
It is available for Android,Blackberry and iphone.