Three have just launched the HRC ChaCha on their network and have posted a blog update as well as a YouTube video which can be found below.
The HTC ChaCha will cost just £20 on 'The One Plan' giving you more allowance than you could ever dream of plus that all important AYCE data.  You can also pick it up on PAYG for £249.99 in store or online.
Key features of the ChaCha are:
2.6" TFT touch display plus QWERTY keyboard
5MP camera with LED flash
Front facing VGA camera
2GB microSD, expandable up to 32GB
HTC Sense for Facebook on Android 2.3 (Gingerbread)
114 x 66.5 x 10.88mm
Bluetooth 2.1
800 MHz processor
Here is what is said over on the Three Blog: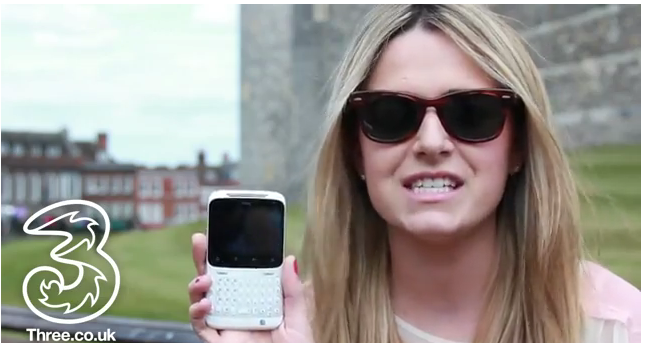 [yframe url='http://www.youtube.com/watch?v=lzpN6yjRq3A']
Hands up, I'll admit it. I'm a Facebook addict.  Before I've even got out of bed I've usually checked my wall and replied to an inbox or two. I can't really remember life before Facebook and I'm sure a lot of you are the same. There are over 500 million users worldwide of which 200 million check Facebook on their phone and hopefully  you're all as excited as me for the arrival of the HTC ChaCha.

The ChaCha is fully integrated with Facebook and it's now available on Three. The new Android smartphone comes with a 'Facebook button' (which glows!) that makes it quicker and easier to upload photos, check in and update your status on Facebook.

The ChaCha is made for people like me, people who want to immediately connect to Facebook. ChaCha runs on the latest version of Android (2.3), also known as Gingerbread, which means the whole experience is really smooth and efficient. It comes with a 2.6 inch touchscreen as well as a Qwerty keypad so you have the option of touching or typing.

The HTC ChaCha on the One Plan with all-you-can-eat data means you can spend as much time as you like on Facebook without worrying about your bill at the end of the month. You can update your status, check in, upload pictures, use Facebook chat until your heart's content and never run out of data.

One of my favourite aspects of the phone is the 'Friends Stream' widget which can sit on your home screen.  This way you can read Facebook status updates, see what your friends are posting on each other's walls and then with one click, comment or 'like' the status.

I sent Sedge out to put the HTC ChaCha to the test, as a Social Media Producer for Three she's even more of a Facebook addict than me. The pictures she took with its 5MP camera were great quality; they even got a few 'likes' from her friends.

Check out the video to see how Sedge got on with the HTC ChaCha.