Nokia has just downgraded their outlook for Q2, with sales said to be far lower than expected. Their share price has taken a huge noise-dive following the news ..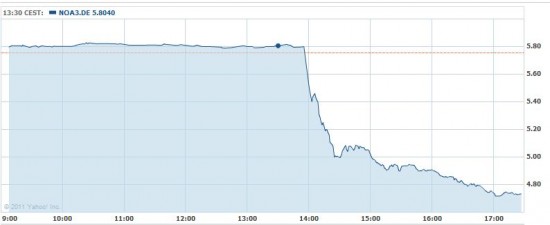 Stephen Elop, head of Nokia, stated in a conference call to investors that..
We're seeing large number of Android handsets on the market… There is definite pricing pressure going on. We are understandably under pressure as to what's the right pricing point.
With the focus now clearly on Windows Phone devices, Nokia have seen their share value fall from 5.80 euros to 4.73 euros, down nearly 18% as we type. They have also admitted that they can no longer issue yearly targets..
Given the unexpected change in our outlook for the second quarter, Nokia believes it is no longer appropriate to provide annual targets for 2011. However, Nokia expects to continue to provide short-term quarterly forecasts in its interim reports as well as annual targets when circumstances allow it to do so.
Link – Nokia.com Press Announcement