A study performed by Ofcom has revealed some possible problems for Orange and T-Mobile. The new "Everything Everywhere" joint venture had average download speeds that were slower than 3, Vodafone and O2. The information, which comes from a massive 4.2 million speed tests, shows some key differences in average performance across networks….
– O2, Vodafone and 3 delivered on average faster download speeds over a 24-hour period than Orange and T-Mobile; O2 was faster than all the other operators in the peak evening period of 8-10pm.
– O2 had on average lower latency than 3, Orange and Vodafone over a 24-hour period.
– Web page download tests (downloading the full HTML – but not the images – from some of the UK's most popular web sites) found that on average O2 delivered pages faster than the other four operators.
The average download speed based on data dongles found was 1.5Mbit/s and urban areas performed much better. Even in areas with good 3G/HSPA coverage, the study found that there was still big differences in the quality of service provided over the data connection.
During testing there were much fewer 3G / HSPA connections on Orange, as can be seen on this diagram below. The green section shows the amount of "2G" (GPRS /EDGE) connections achieved..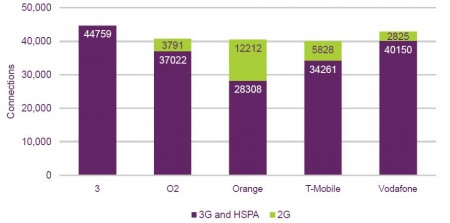 This chart shows the average download speeds by operator and the time period. This can show us whether there's heavy contention on the network during peak times. See what happens in the green section below on the Three network – these are tests performed between 8PM and 10PM. It seems that speeds are almost halved. That said, they're still around the same speed as the best Orange results in the "Off Peak" times..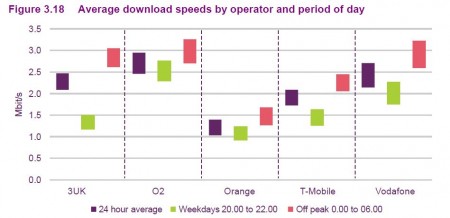 Read the full report here. We'd love to hear your thoughts on this one.
Links – Mobile Broadband Research – Full report
Credit – BBC News