Tonight my wife is out, which means I'm cooking, which means we're ordering in. Luckily Dominos Pizza have come to the rescue of lazy / rubbish cooks everywhere by releasing this free app. You can simply click in, choose a pizza, add you own toppings and even use a "pizza slot machine" to randomly choose a meal.
The app will use your location to find the nearest store and you can even use the "half 'n half" option to add different toppings for each half of your pizza. The app will either use your GPS position (if you have it turned on) to find your local store or it'll accept a postcode. It's not all pizzas of course, there's subs, drinks, starters and you can take advantage of all the special offers from the app too.
The app has been available for the iPhone since September last year and has already had over half a million downloads. £10 million worth of orders have been taken via the existing iPhone app and mobile site, so this new Android app will no doubt boost those figures even further.
Links – Dominos Pizza App – Dominos Pizza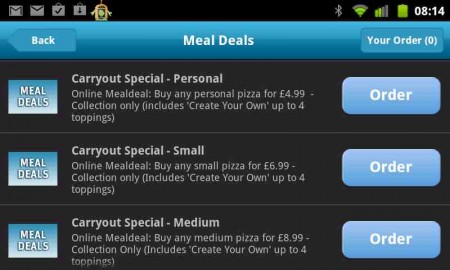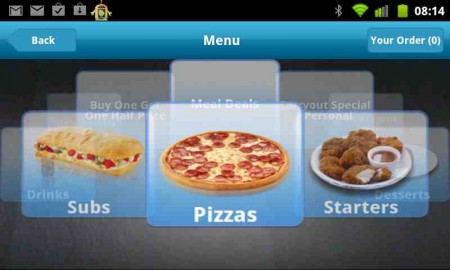 DOMINO'S TOPS £10 MILLION IN MOBILE SALES AND LAUNCHES NEW ANDROID
APP

18th May 2011 – Domino's Pizza, the pizza delivery expert, has
topped sales of £10 million through its mobile channels. The
company's phenomenal growth in mobile sales has today been bolstered
with the launch of Domino's new Android ordering app.

Domino's existing mobile channels include an iPhone ordering app
and mobile optimised website. The iPhone app, first launched in
September, has achieved over 500,000 downloads to date. Domino's
mobile optimised website was introduced in December, making it
possible for BlackBerry and other smart phone users to also order
pizza whenever and wherever they are. Pizza sales taken through the
iPhone app and mobile optimised ordering site have just reached over
£10 million.

The Android app, launched today, is the newest addition to Domino's
suite of mobile ordering channels. The free app has many of the same
features as Domino's iPhone app including a carousel style menu to
allow customers to select their favourite pizzas, sides, desserts,
subs and drinks. Pizzas can be customised by pinching to resize the
base and scattering on a range of tasty toppings before sending the
order straight to the store. Android users can also be in with the
chance of winning money off their next order by popping their pizza in
the oven and swiping or blowing away the steam to reveal a code. Then,
while the pizza is in the real oven, users can keep tabs on its
progress with the real-time pizza tracker.

Simon Wallis, sales and marketing director for Domino's, said:
"We're always looking for innovative ways to allow our customers
to order. We first launched online ordering ten years ago and, based
on its phenomenal success, we were keen to capitalise on new
opportunities created by mobile channels. Investing in this type of
technology is now paying dividends for us, achieving pizza sales of
over £10 million. With sales of Android phones reported to be up 810
per cent year on year*, we're excited about what the future holds
with the launch of our new app, which will allow even more pizza
lovers to order on the move."

Download Domino's free apps from the Apple App Store and Android
Market.