The Motorola ATRIX went on sale just a few days ago and we've already detailed the pricing but, just to give you a nice graphic showing you the prices for this device, here's a snap from the Orange launch site. As you can see, if you're after the Lap Dock you'll still shell out £299.99, but the "Work and Play" kit (remote control, mouse, HD multimedia dock and keyboard) and the phone itself is available free on the £40 per month plans shown below.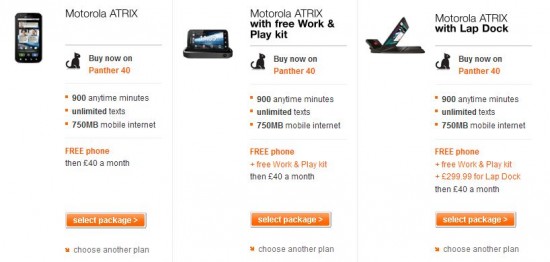 We usually link to our video demo at this point, but we think it's perhaps time for Conor at Orange to show his stuff 🙂
[yframe url='http://www.youtube.com/watch?v=xfxGo2p121w']
Let us know if you've got an ATRIX and what you think of it so far.