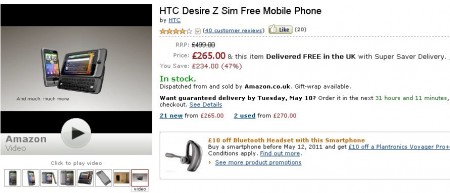 The HTC Desire Z is an excellent device. Our recent review pointed out the rather excellent slide-out QWERTY keyboard, fast boot and 5 megapixel camera.
Amazingly Amazon are selling the Desire Z for just £265 – that's unlocked and with free delivery. That, I have to say, is one heck of a deal. If you pop down to Carphone Warehouse you'll be paying £429.95 for the exact same thing.
Update – The price has gone up since this was posted.
Link – Amazon.co.uk
Credit – @bragpenders