Three have blown everyone away today with a new Sim Only price plan offering The One Plan contract on just a single one month rolling contract instead of a 12 month agreement… for the same price of just £25 a month!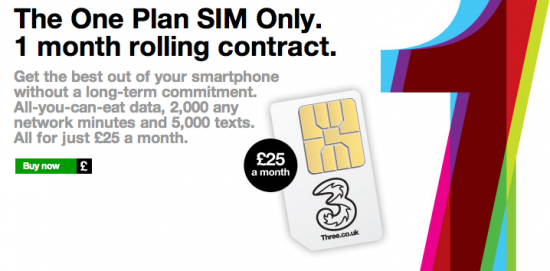 One Plan customers get an insane amount of allowance which most people will never even come close to hitting as you get
2,000 Minutes
5,000 Texts
All You Can Eat Data
Back in February we put this 'All You Can Eat' comment to the test and within two weeks had used around 45GB with no charges, and oh yeah of course, One Plan customers can tether their handsets to use as a modem too!.
Sign up quick as this used to be a 12 month contract we have no ideas how long the 1 month offer will last for!
Link – Three Store
Update – We've now had the official word from the guys at Three. They tell us…
Three launches The One Plan on a one month rolling contract.

Three's market-leading The One Plan tariff is now available on a one month SIM only rolling contract, giving Three customers all-you-can-eat data with extra flexibility. Three is the only operator to offer all-you-can-eat data with The One Plan, which now spans contract, PAYG and one month rolling.

Designed specifically for customers who are looking for flexibility, The One Plan will be available from £25 a month, including all-you-can-eat data 2000 minutes, 5000 Three to Three minutes and 5000 texts.

William Ripley, Three's director of contract handset commented, "At Three, we take great delight in bringing industry firsts to market, so we're proud to be the only network helping our customers make the most of their smartphone by offering all-you-can-eat data on a one month rolling contract.

"We know that our customers love their smartphones, and want to fully use their smartphone's internet capability, but prefer the freedom of being out of contract with no need to worry about data charges."
Update 2 –  We have also now been told and confirmed that anyone on the new 1 month One Plan contract WILL NOT get tethering use included, this is for people who 'commit' to the network for a longer period, as there are no 12 month One Plan options left this would mean signing into  a 2 year deal with a handset.  Anyone on the older 12 month agreement does get tethering but the new 1 month One Plan does NOT include tethering use
Update 3 –  Who said people power does not matter.  Since yesterday Three had a lot of customers after the new 1 month rolling One Plan contract due to the AYCE data but were let down when told on Twitter that there was NO tethering allowed.  Since then the company has listened to it's customers and changed it's mind and will now allow you to tether on the 1 month One Plan.