I get it, I really do. If I'm honest this is the tablet that all other tablets ape. It's as slim as a magazine and is the device everyone seems to want. Heck, I've wanted one of these for quite some time.
The device we have here is the WiFi and 3G version from Orange – the black strip at the top of the device shows the 3G functionality and adds an extra 12 grams to the WiFi-only 601 gram weight. A tiny micro SIM sits on the left-side of the device just below the 3.5mm audio port.You need a pin or similar to eject it.

On the top you have the on / off button which sticks out making it easy to locate. Further along, that 3.5mm audio port.

The back camera sits below the main power key and just next to it there's the silent / screen rotation lock and the volume up / down key. This is on the right-side of the device as you look at it.
There's various models – a 16GB, 32GB or the 64GB version that we have here. WiFi, Bluetooth 2.1+EDR and the 9.7″ LED "backlit glossy widescreen multi-touch screen with IPS technology. The screen has a 1024×768 pixel resolution at 132 pixels per inch. It's got all sorts of other stuff too, including a "fingerprint-resistant oleophobic coating". Forget all that – all you need to know is that it looks unbelievable. It's the most crystal-clear and rich display I've ever seen. It pulls you in – you're almost mesmerized by it. I think this is part of the "trick" with Apple products – you're almost hypnotised by the beauty of it.
Tap the power button at the top or click the Home key and you're in. The 1GHz A5 CPU fires up and everything is so smooth. Imagine you've turned up to your local ice-rink with roller skates on, it's a little like that. Gloss, speed, beauty, there's buckets off it.

The rear camera records in HD (720p) whilst the front camera is VGA. You can use this with the "Photo Booth" app to start bending your face into all manner of funny positions. It happens instantly and everything is so intuitive. As with most devices, there's no big instruction book and you really don't need it. Most of the fun is playing, learning stuff – twisting pictures around, dragging icons, mucking around in general.. it's fun while you're learning.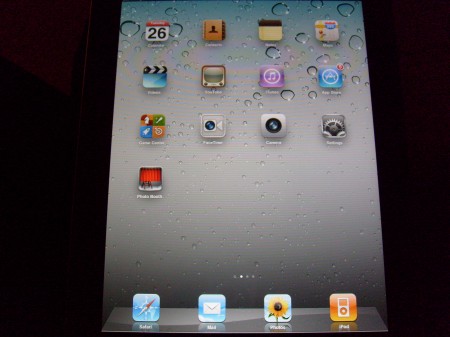 Some things are a little different. You have to click the small "X" to clear the URL, whereas on a PC you can double-tap – these are really tiny gripes and only come about because of the OS change. Another gripe ? Well, the lack of Flash. Most of the gaps have been filled. BBC iPlayer works fine via a special app, 4OD is also available as an app and YouTube videos will play in the Safari browser. Other Flash videos and embedded browser games don't work though. These will from other video sharing sites for the most part and you'll hear yourself utter a "tut".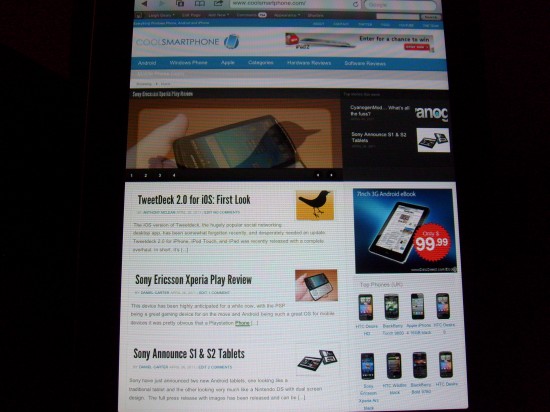 Here's me browsing this very site in Safari. You can use both fingers to zoom into certain bits of text or images. Everything is displayed just as you'd expect it and it's all very rapid indeed. Below I'm copying some text – I can paste that in elsewhere. It's a lightweight device and is really suited to "in front of the TV browsing". Typing is really simple, but after a while you may want something to prop the device up on. There's a load of accessories out there to sort this little issue out though.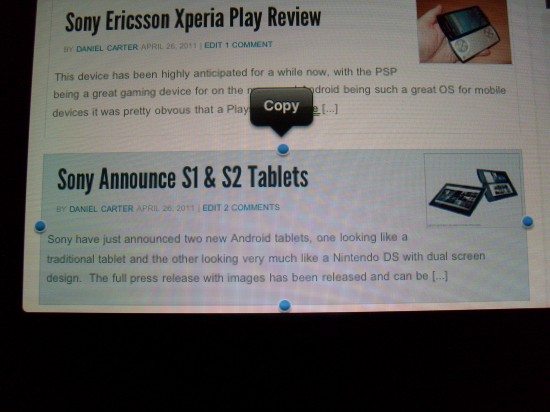 When you're looking for apps it's worth knowing that the iPhone apps are stretched out to fit on the higher resolution screen. The iPad or "HD" apps are more suited to the iPad screen and look a whole lot better on the luscious screen. The iPhone apps are OK – I'm not saying they're unusable, but you'd definitely rather play Angry Birds Rio HD instead of Angry Birds Rio.
There is, of course, a huge range of apps to choose from. The App Store lets you dive in with screenshots, access to the developers page, ratings and more. It's easy enough to find an app too – everything is sorted into categories and you can see the latest charts. All the apps follow a similar look and feel throughout, so there's a familiar feel as you move around the device.
If you're feeling a bit skint after shelling out for an iPad then you should perhaps learn to spend even more. Most of the good apps cost money. It's a totally different world if you're an ex-Android user. The free apps are good, but there's a large amount of paid-for apps and .. for the most part.. they're better.
I found this rather good Telnet app though.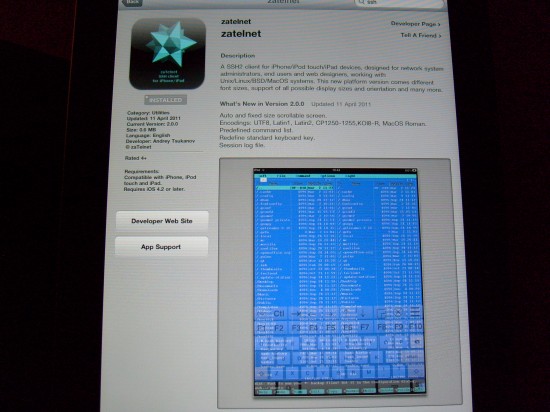 With reviews of this nature it's probably best to show you our video review. Below is part one and two and will give you a fantastic overview of the iPad 2.
[yframe url='http://www.youtube.com/watch?v=c_ahorJJjYY']
[yframe url='http://www.youtube.com/watch?v=c9DnQVfe6U0′]
Conclusion
Apple have a strong brand. When I say strong it's more like concrete. This is a brand that shows no sign of getting dented. Signal problems being fixed by a rubber, tracking information being stored ? It's not done anything to dampen the enthusiasm of customers. That said though, this is the device other tablets mimic. It's easy to see why. It's slender, it's light, the battery seems to last forever. The external speaker is deep, loud and, when you toss the device on the microwave whilst listening to music from your sync'd iTunes library, it's easy to forget that this is such a sleek device.
I did have a couple of niggles – some apps crashed out, albeit nicely, and the lack of Flash was a very minor irritant, but for the most part it was fantastic. I also loved the fact that, with this particular unit from Orange, I could browse and use the web where-ever I was.
From the beginning, when you pick up the iPad and unlock it, it pulls you in. The adverts will tell you that the technology is "hidden". It's true. You don't have to consider how things work, they just .. do.
It's even the simple things. Just viewing your own pictures or videos on the iPad 2 is so enjoyable.  This is a device that will put a smile on your face. It's a device that anyone can use.
I don't think the iPad would ever replace a Netbook. Likewise, I don't think that most Tablet / Slate devices would replace a Netbook. For heavy typing and work you're probably best going for a 10″ Netbook, but for those who want enjoyment and a fantastic user experience – go for the iPad 2.
Prices currently start from £199 on a 24-month contract with Orange. Get more details here.