As more and more developers get their hands on an Android tablet running Honeycomb, we will see, and are starting to see more tablet-dedicated applications.
Tweetcomb is one such application, which focuses on the social medium, Twitter.
Tweetcomb is the brainchild of Chris Stewart (Check out his Twitter feed here) who has brought other applications such as Social Updater, and Newsr to the market recently. The latter of which is also optimised for Honeycomb tablets.
There are many Twitter clients out there currently for Android, but few that mimic the feel of desktop big hitters such as Tweetdeck. Add into this to the lack of Honeycomb-optimised alternatives and Tweetcomb becomes a sweet proposition.
Tweetcomb has a dark theme with neon blue highlights which fits with the overall theme of Honeycomb itself. Currently, as an initial release, Tweetcomb has the standard "Dashboard", consisting of a Timeline view showing all Tweets of users being followed, as well as Mentions and Direct Messages. Settings to control notifications, update interval and the ability to add multiple twitter accounts are also included.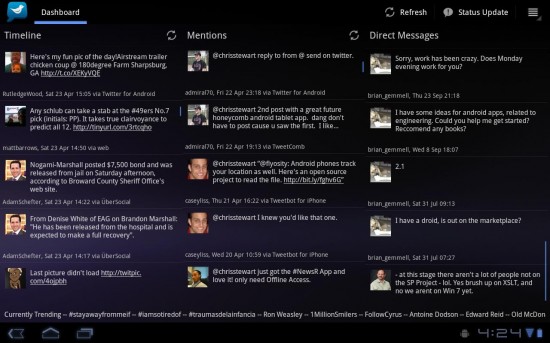 With this as an initial release and more updates promised in the coming weeks such as Widgets, Twitlonger integration and media previews, we expect big things from this application in the very near future. It certainly sets an exciting benchmark for future Honeycomb application developments.
Tweetcomb can be purchased for £1.81 from the Android Market.