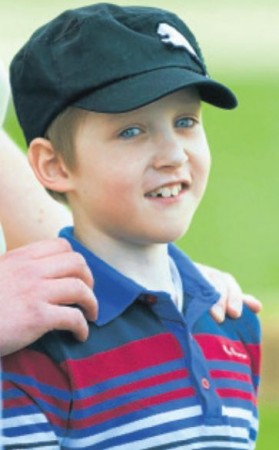 Hello. Forgive my indulgence here but I've just read our local paper and I felt compelled to do something about this.
Meet Cameron, he's eight. In 2010 he was diagnosed with a rare form of cancer called rhabdomyosarcoma. He had chemotherapy and radiotherapy and was a really brave boy throughout. Earlier this year he went into remission. Weeks later a lump was found on his arm – the rhabdomyosarcoma had come back. This time chemotherapy failed to work and the doctors considered amputating. Unfortunately an MRI just a couple of weeks ago showed that the cancer had spread.
Cameron is now undergoing daily chemotherapy to try and shrink the newest tumours, but that is all that can now be done.
As long-time readers will know, this is an issue which is very close to my heart. Cameron is a local boy and, as a parent myself, I couldn't just turn the page. Cameron only has one wish now – to visit Disney World Florida. His family are desperately trying to raise money, with a fun day being held at a local school and sponsored walks. Recently a mystery man donated £1000 to the pot and the family now have £2000.
I'd love to help Cameron, so if you have any cash washing around your Paypal account, please do send it over to [email protected] His family have setup this Facebook page and you can read the front page of the very paper I have in my hand here.