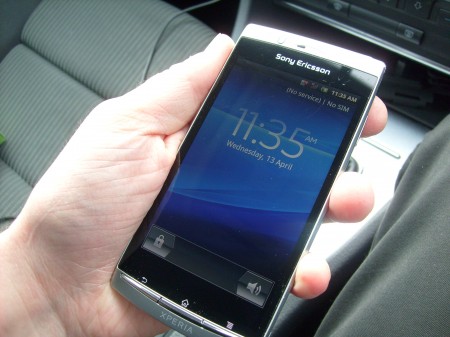 The Sony Ericsson Xperia arc has a lot going for it. A curvy yet painfully thin design, with an 8.1 megapixel camera, HDMI output, a massive 4.2″ screen and HD video recording with constant focus. It has the Sony Bravia display engine for a crystal-clear display and something called "Exmor R" for producing vivid photographs, even in low-light.
When you look at the specs a 4.2″ screen seems a little too much, but coupled with this design it really doesn't feel like 4.2″ and fits the frame well. That screen goes right up to the edges of the phone and the thinness of the phone can feel a little "new" if you hold the phone between your thumb and finger. This is a phone with everything you normally expect from Android – GPS, WiFi, sensors a-plenty, Bluetooth 2.1, 480 x 854 pixel screen with multi-touch, a 1GHz CPU, FM radio, digital compass and HDMI out.

Outside
At the bottom of the arc you'll find just three buttons – no search button here. They're thin and sit in an arc shape (see what they did there?). Back, Home and the Menu key. The latter will usually let you hop into the search option too..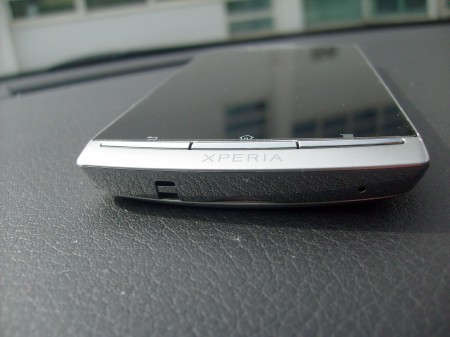 Above you can see the three keys once again – they're thin and sit just at the bottom of the main screen. Below the angled bottom section you can just see the lanyard loop and microphone.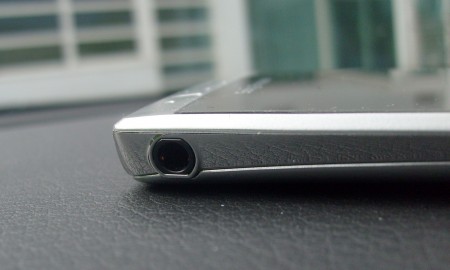 On the left you can really see that arc shape. At the top there's a 3.5mm audio port for plugging in your headphones or your headset. The sides of the phone are a polished silver with the other silver sections having a sprayed silver effect.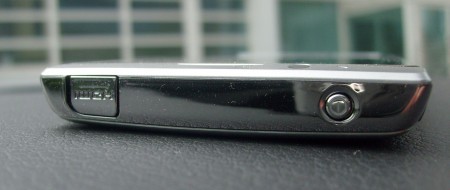 The top has a small power button which I did find a little fiddly to press at times and, to the right, a microHDMI connector which sits behind a rubber flap. Using this you can output your HD videos to TV and other equipment.



On the right is the microUSB connector for charging and syncing plus the volume up / down buttons and, way down in the bottom corner, the camera button. Look at the arc shape here. Nice huh ? I always love a dedicated camera key. Press and hold from anywhere in the phone to initiate the camera, then press down slightly to start focus.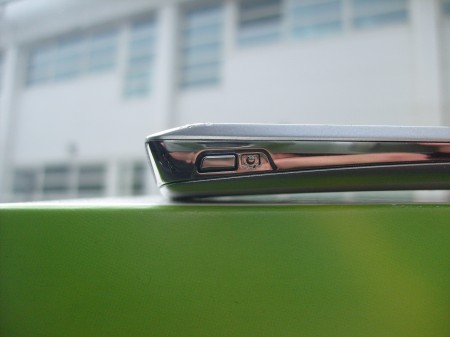 Here's another profile shot. I just wanted to include it again, perhaps just to stare at it. 🙂

The back panel has a sculpted feel to it – it sits nicely in your hand thanks to that curve and feels very ergonomic. The slot at the bottom is for the external speaker (next to the Sony Ericsson logo) and there's the 8.1 megapixel camera at the other end with the flash. This phone will also do continual focus while you're recording video, a great addition.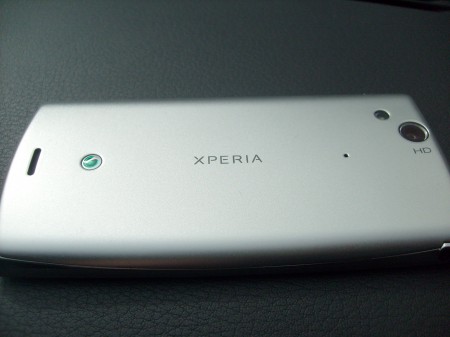 Here's the 8.1 megapixel camera with the flash just above..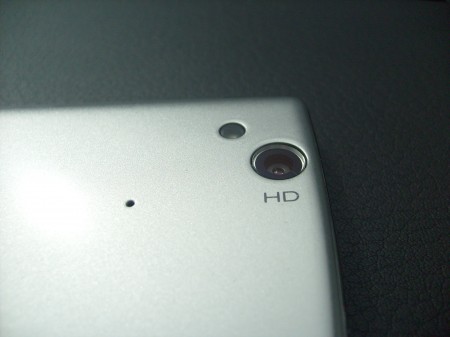 With the battery cover off you can see the included 8GB microSD card and the second microphone for active noise cancellation – this really does work. That's where the hole just to the left of the camera comes in.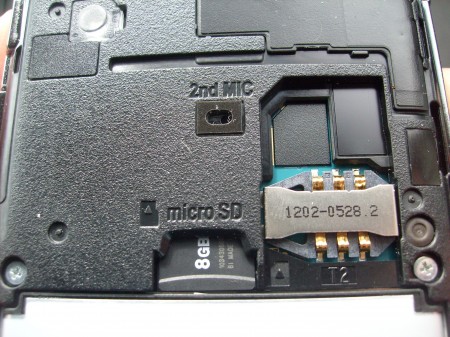 Inside
I have to apologise for the screen captures here. We tried our usual method of snapping screen images but all the shots came out red for some odd reason. Anyhow, Sony Ericsson have again added their Timescape "social aggregator" to pull in information from texts, Tweets, Facebook updates and more into one floating timeline. I did like this, but if you get many tweets and updates you could find that it gets a little too much for one central bucket. I also found that clicking on some things, like Tweets, just took you to the mobile version of Twitter – it wasn't quite the interactive experience I was hoping for. I ended up using Seesmic and only using it for texts etc.
With such a powerful phone I was expecting a fast experience. I got this, however on the main screens the Sony Ericsson widgets sometimes caused a brief slow-down when sliding through the screens. The gallery "flipper" seemed to cause a little glitch but, after you'd swished past it a couple of times and it presumably had written to a buffer, it seemed to be OK again.
Ah, but perhaps I'm getting ahead of myself here. Powering up can be tricky enough – pressing the power button sometimes works, sometimes not. I found that pressing and holding it seemed to do the trick and I'm so glad I updated the software on the phone – it seemed to help the boot time a great deal but, for reasons I can't fathom, every now and then it seemed to take an age to boot from cold. When I say a long time, I mean a very long time – two minutes or more. It's like something inside is having to wind itself up..
After unlocking the screen with the left-to-right swish you're into the main 5-screen interface. It's this screen which lets you place widgets (Clocks, Calendars, Facebook, Latitude, Music Player, Switches for GPS / WiFi / Bluetooth, Timescape, YouTube etc), shortcuts into programs, folders and wallpapers. For the wallpapers you can pick a picture from your own gallery, have a live wallpaper or select from one of the Sony Ericsson wallpapers included on the phone itself.
The bottom row of icons can be changed too, although no widgets can be added you can at least reorganise and remove these if you wish. As default you have the media, messaging, contacts and phone shortcuts at the bottom but you can switch these around and have the camera shortcut icon there if you wish.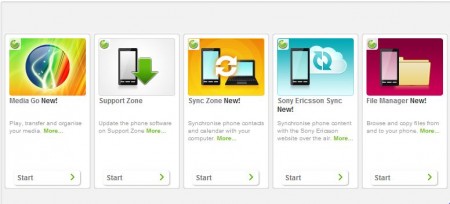 When you connect the phone you get a range of options – charge only, USB mass storage or the media transfer mode. There's a Sony Ericsson Companion software which xcan be installed too – this will also help you to update the software on the phone. Extra functions include a media function called "Media Go" which will let you "access and manage your media files freely on the computer and in the phone". It'll let you automatically sync media, do CD ripping, conversion and more. This is a great tool and really helps bridge the gaps in media transfer and makes everything a lot easier.
A Sync Zone app will help to bring in your contacts and calendar appointments from your PC and sync them back but, as with all Android phones, you can use your Google login to sync with the Google Calendar, Contacts and Mail function online or use Microsoft ActiveSync. Sony Ericsson have also added their own flavour of cloud synchronisation too with "Sony Ericsson Sync" which will keep your content within the Sony Ericsson online portal.
The contacts system is intuitive and glossy. Here I'm allocating a picture to a contact. It's just a matter of finding the contact, clicking edit…
..then I tap the picture and choose a shot from my gallery. I can crop the image too..
..then, once save it'll look like this..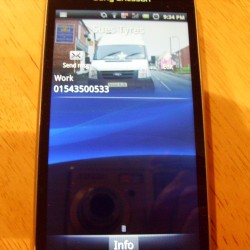 Aside from the main five panels where you can merrily drag and drop items around, there's another set of panels accessible by the centre button on the bottom row. In here you'll find all of the apps you've downloaded. If you want one of these apps on your main (upper) screens you just press and hold – it'll then pop up to the main screens up above and flop nicely down into a space you choose.
Gmail, IMAP, POP3 and Exchange Active Sync accounts can be added and, using the Exchange or Google "cloud" you can sync your email, contacts and calendar appointments. This makes it easy to add appointments into your PC and they'll sync with your phone. The phone will remind you when you need to do something and it'll all sync quite happily in the background.
The apps include YouTube (which is as brilliant as it always is on Android and will let you upload video directly from your phone to YouTube as well as the usual video watching, searching and sharing), an Alarms function (which is quick and simple to use), a Music App with an equalizer (which shows album art and a lot of very useful functions), Google Maps (which includes everything your Desktop version does including Street View, Satellite View etc), Google Navigation (which is just utterly brilliant at getting you from A to B), Google Talk (an online instant messaging tool), Google Latitude (for finding your mates), the OfficeSuite for viewing Office documents, TrackID (for identifying music that's playing), Postcard (an app for sending real postcards with photos you've taken on) and lots more. You also get Android Market for searching and grabbing new applications too, so there's plenty to choose from.
The Xperia arc also features an FM radio, which is always a nice addition into a smartphone. There's a Media Server for streaming content from your phone to connected DNLA devices and an app called "LiveWare manager" for finding apps for your accessories and define their launch behaviour. What this will do is let you fire up a particular application when you plug in say, your headphones. That's pretty useful. You can make it launch something when you charge it too.
The browser is, as per usual for Android, brilliant. It will render pages as you'd expect and you can do tabbed browsing, bookmarks and the ability to find text within pages. Pinch / zoom is included and you can share pages via Twitter, email or via any other program you've installed.
When we first saw the Xperia arc in Barcelona Sony Ericsson told us that the camera was spectacular – that it was better in low-light than any other phone camera, that the stabilization controls would make HD video recording smooth, that the constant focus would make any camcorder surplus to requirements.
D'you know what ? I think they're right. This is one of the best, if not the best camera I've ever seen. Colours are maintained in low light, pictures come out far better than I'd ever have expected. Video recordings were clear and stable. It's probably best to show you what I mean with the aid of these shots..
The gallery system is fluid and quick. It has nice touches such as tilting the images when you tilt the phone and will let you crop, rotate, delete and share images via Facebook, Twitter, Messaging, Bluetooth etc – similar to sharing web pages. The whole system, is lovely to use.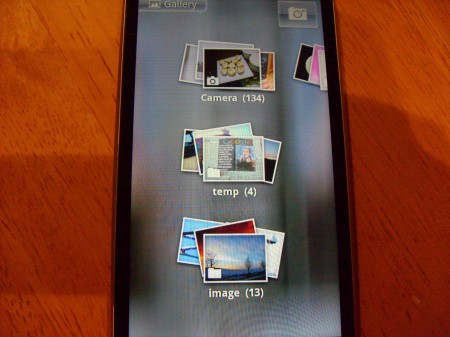 Camera examples
Click each image for the larger version. You should definitely check out our Desire S vs Xperia arc video challenge and our Desire S vs Xperia arc camera challenge. It throws up some revealing results.

Video examples
[yframe url='http://www.youtube.com/watch?v=M1PxTWuVjIo']
[yframe url='http://www.youtube.com/watch?v=i-zMtMgApX8′]

The settings system will let you tweak absolutely everything to do with the phone – from enabling your own WiFi hotspot using the phones' GSM connection to changing the wallpaper, ringtones, display settings, WiFi, Bluetooth, VPN, GPS settings, date, time and more.
Conclusion
I have to say I'm a little torn by the Sony Ericsson Xperia arc. There's absolutely no denying that it's a very well designed phone with almost impossible dimensions. A dangerously thin body which remains strong is no mean feat. I loved some of the little touches – the way that text message conversations pop up in animated bubbles and the way that contact pictures get zoomed-in during calls. It adds a little zing. I loved the camera. Pictures are clear and there's no need to stand still when you snap them either. The constant focus during filming was a welcome and unexpected bonus and really helped to produce clear footage which could be slotted into a family movie. This is one of the first phones I've seen which would finally make the HD cam-corder redundant. Honestly, the way it smoothed out bumpy footage and handled low-light put it up there next to a Flip HD video camera. Still images were shockingly good – the camera really does live up to the promises.
There were some issues though. I still miss the predictive dial. I want to be able to key in names and it just dial with the first three characters. Luckily there's free apps like Dialer One to easily get you out of this. My only other niggles were with the Timescape system, which wasn't as useful as it should be and in places it didn't feel like a complete package. But really, I'm nit-picking here.
However, with the blistering benchmark this phone set, with the sexy, curvy design and bright, clear display we just loved holding it and carrying it around. I want to mention that camera again. It's brilliant. It's really, really brilliant. This is an excellent phone.
Video overviews
We film hands-on videos which are always worth watching. It'll probably fill in any gaps within this review and it's a great way to gert a quick-fix if you're too lazy to read this entire page 😉
[yframe url='http://www.youtube.com/watch?v=b7ToALgzl7g']
[yframe url='http://www.youtube.com/watch?v=6i2tHIpuqvo']
[yframe url='http://www.youtube.com/watch?v=sFN1YZBhyZQ']