Android tablets are all over the place at the moment. The prices of current Android tablets are plummeting such as the Galaxy Tab and the Advent Vega. There are also lots of new tablets being announced every week such as the Asus Transformer and Acer Iconica.
Due to lots of people recently picking up a new or reduced tablets, I thought we should have a quick look at some apps that will make the whole tablet experience better. They will all work on phones as well, they just work better with a large screen.
Pulse News Reader
Pulse is a great rss, news, Twitter and Facebook reader. You select sites or feeds from various categories from or you can add your own. Once you have set up your various feeds and websites you are presented with a screen full of thumbnails for each of the sites you have chosen. You can scroll horizontally through each sites articles and vertically through your selection of sites. Pulse will update the feeds at a set schedule and alert you when there are new stories to read, it will even hide the read stories from you as well. This works well on phones as well, its just the larger screen of a tablet makes browsing through sites and articles a lot easier.
VTL Launcher
VTL Launcher is based on ADW Launcher but with a few differences.  Most launchers have the dock along the bottom of the screen, on a tablet the dock appears on the right hand edge of the screen which I find rather annoying. VTL Launcher lets you dock items at either side of the screen or along the bottom. So you can quite easily have two or three docks along the edges of the screen. The other good thing about VTL is that as it is based upon ADW Launcher so you can resize widgets and use ADW themes as well.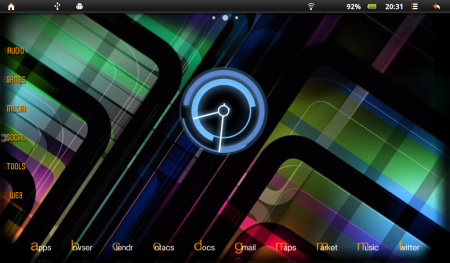 XDA Developers Thread – Download Link
Button Savior
I recently bought an Advent Vega and the button configuration is somewhat strange, it has a variety of buttons, with some long press/short press combinations. Remembering which combinations to press is difficult. Button Savior helps out by giving you the following buttons home, menu, back, camera, search and exit. These buttons can appear on either the left or right hand edges of the screen, when you tap the trigger point the buttons appear and will disappear after a certain period of time. Button Savior also saves wear and tear on buttons as well, especially back and menu, which on my Vega is the same button. Button Savior will only work on rooted devices.
Appwidgetpicker
After a few months of owning a device you will probably have loads of apps and widgets installed. When you try and add a new widget to your homescreen you sometimes end up scrolling through lots and lots of widgets to find the one you want. This app allows you to group the widgets in that list so that you don't have to scroll 8 different calendar sizes it will just appear as one. Some of you may have seen this feature before, it appears as standard in the Cyanogenmod roms. Appwidgetpicker will only work on rooted devices. The installation process is slightly different to what you may be used to as well. The apk needs pushing across to the "/system/app" folder, which you can do via ADB or through the DDMS program in the SDK. Further information can be found in the XDA developers thread.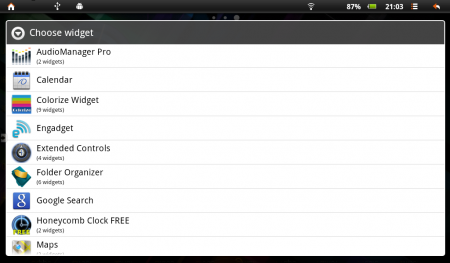 Colorize Widgets
Colorize Widgets is a selection of 7 widgets. You get one widget for each of the following Facebook, Twitter, Agenda, Analog Clock, Messages, Contacts and Bookmarks. The beauty of these widgets is that if you are VTL Launcher, ADW Launcher, Launcher Pro or HE Launcher you can resize the widgets to suit your needs. So you could easily have a full screen bookmarks widget.
Android 7
Android 7 is another launcher, the difference this time is that it mimics Windows 7. So you get a windows start button and a programs menu. On a phone it seems very cramped but on the tablet it is a lot easier to get to grips with. I mainly use this to trick people into thinking I have a Windows tablet. As to how long someone could use this for is another matter.
Dolphin HD
Dolphin HD is a replacement for the stock browser. Many of you may have used this on your phones. I always found it a bit cramped on a phone, the extra parts just seemed to reduce the viewable area. On a tablet this does not seem to matter any more. The browser supports flash, it has proper tabbed browsing, it will import your existing bookmarks after installing it, it supports no end of gestures to control the browser and there are lots of plugins to add extra functionality.
So that is just a small portion of things I have installed and found so much better on my tablet. If you have any further suggestions let us know and if you have any questions ask below.