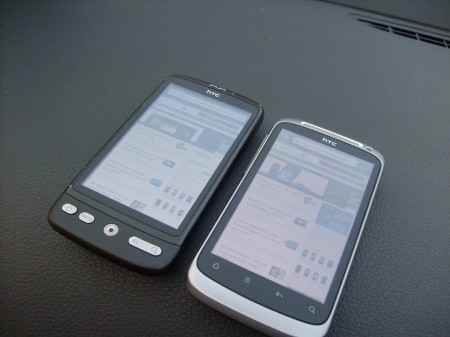 We'll be up-front about this from the start. The HTC Desire S has a lot of the same characteristics and specs as the original HTC Desire. We almost felt a little let-down when it first appeared in Barcelona, especially up-against dual-core 1GHz phones. Somehow I felt insulted that HTC wanted to make the "old" Desire any better.  The Desire had a good camera, a fast CPU and is still very popular. In fact it surprised us – we expected the HTC Legend to be the more successful handset but it seems that speed was key for customers.
Here on the Desire S HTC have blended the unibody construction of the HTC Legend with the speed and agility of the HTC Desire. The result is the Desire S, with a solid construction, more internal storage and camera up front for video calls. It runs Android 2.3.3 and has the HTC Sense interface for navigating around your phone.
Everything else remains pretty much the same. There's a 1GHz CPU, the same 5 megapixel camera around the back, the same screen (480×800, 3.7″ capacitive) and all the usual sensors, GPS, WiFi, Bluetooth, microSD and compass bits.
Outside
Let's start at the top and here you'll see the VGA camera you can use apps like Tango to make free video calls over WiFi (like Facetime on the iPhone). We should point out at this point that "standard" video calls aren't possible. Shame. This sits to the right of a fairly wide earpiece.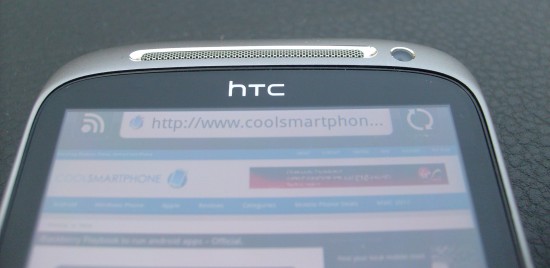 The phone itself is not as tall as the Desire and is solidly built. There's no hint of a bend or creak


On the left side you get the volume up / down key. This will increase ringer, media or earpiece volume depending on what you're listening to. Below that is the microUSB connector – a standard thing on mobiles now. It'll allow charging, syncing and disk drive (mass storage) access plus you can tether the phone to the PC or vice versa.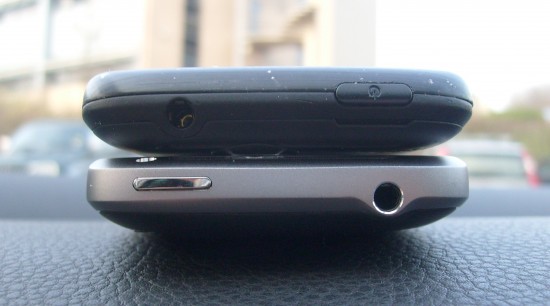 On the right side of the phone there's nothing, whilst on top there's a power button and the 3.5mm audio port for using the supplied headset or your own headphones. The hole for the audio is slightly pronounced on the rear panel. In the shot above you can see how the 3.5mm and power button has swapped around in the Desire S (bottom) compared to the Desire (top).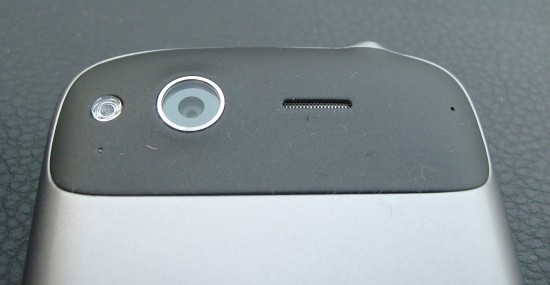 On the back you can see the rubber panels at the top and bottom. The top portion surrounds the camera, flash and rear speaker. The bottom section is removable and houses the battery, SIM card and microSD card. these slide out from the bottom and it's the only user-accessible section.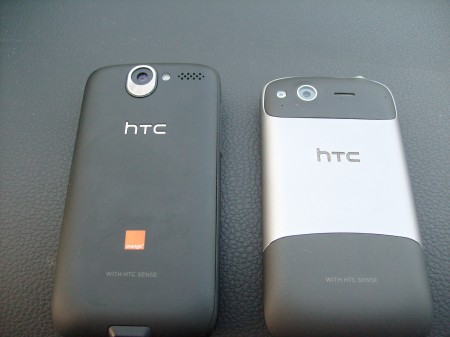 The lower part of the screen has four touch-sensitive buttons – home, menu, back and search. These have a white back-light when the phone detects darkness.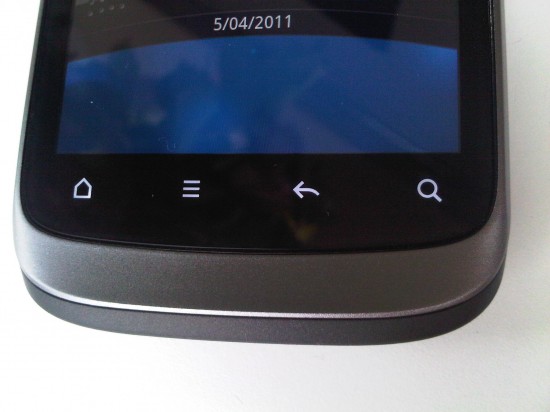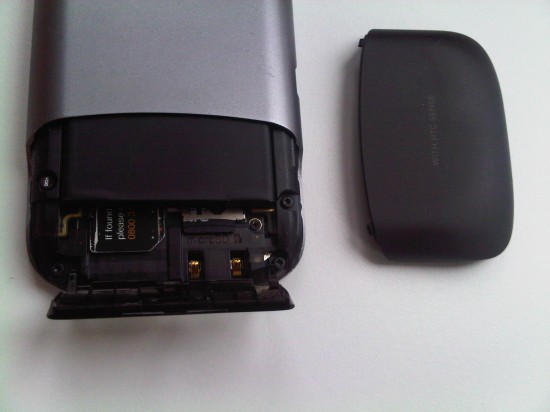 Inside
The HTC Sense interface has of course been added into this device. HTC Sense 2.1 is present and lets you do all of the cool stuff that earlier versions ever did. Drag and drop stuff, sync with the online HTCSense.com interface and find your phone if it ever becomes lost.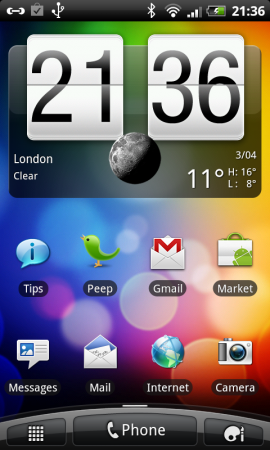 There's a little more intelligence in the new version of HTC Sense. Let's say that you want to move a widget. You have seven screens to choose from but if you want to move a widget to a different place on the same screen or into a space with other widgets. If you dump a widget on top of another widget or widgets it'll shift them for you. Magic.
Here's an example. I've got my big clock widget but I want it at the bottom. I just press, hold and drag it on top of the other widgets. Bam. It moves everything up and pops the clock at the bottom.
Note how there's a "Edit" and "Remove" section at the bottom. Drag your widget to "Edit" to tweak the settings, it's that easy.
HTC have gone all-out to make things easy and quick with Sense. Press and hold on any one of those screens and you'll be given a range of things to add. There's a range of Scenes – an overall "look and feel" for your phone. You can select one of the ones provided or download more from the HTC Hub. The same can be said for Skins too.
Wallpapers – backgrounds which you can choose from for display in the background. You can choose from or download more from HTC. There's Live Wallpapers too – these will move in the background. You can also of course use your own pictures. It'll let you edit your pictures before setting it as your backdrop too.
As with other HTC Sense interfaces you can choose to add a Widget – Calendar widgets, Calculators, Clocks, Search, Music, Photo Albums, Weather and so on. There's also something called "My Shelf" which will let your see the books from the new HTC Reader app for reading online books.
If you can't decide which widget you want then just hit "Browse all HTC Widgets" and it'll flip through each and every widget you can have. It'll let you download more and, as you install apps from the market you can choose more widgets relating to the apps you've got.
HTC Sound Sets can be downloaded, ringtones can be adjusted, as can alarm and notification sounds.
There's an option in your Settings called "Personalise" which gets you into this screen or you can just click the little paint-brush on the bottom right corner too.
Other funky additions include the ability to just slip the phone over when it's ringing to silence, maps that can be cached for those awkward moments when there's no coverage. HTC have also done other funky tricks, like the fact that the phone will ring louder if it's in your bag – it'll ring quieter when you take it out. Then when you answer it'll sync with your Facebook account and let you know if your friend has a birthday – it'll let you know what they're up to.
If we dive into the main programs list we can now drill down into the apps. By default you get to see all the apps, click the star at the bottom and it'll show the most frequently used apps. Next up it'll show the apps you've actually downloaded and added yourself.
There's no dedicated call / drop keys on the Desire S so we head into the dialer with the "Phone" key which appears at the bottom of the main screens. Hit that an you can either stick a number in or start typing someones' name. If I want to call "Robert" I'd just dial "762" – by this stage it should've guessed who you're talking about. Google, as per usual, will sync your contacts with the Google cloud. The same will happen with the calendar and, if you wish, email. The phone will do Facebook, Twitter, Flickr, IMAP / POP3, Exchange and many more types of account. The HTC Sense account will let you log in to the online portal and find your phone, check and reply to text messages online, sort your contacts and view your "Footprints" – a way of looking back at the places and areas you've been to and what you did while you were there.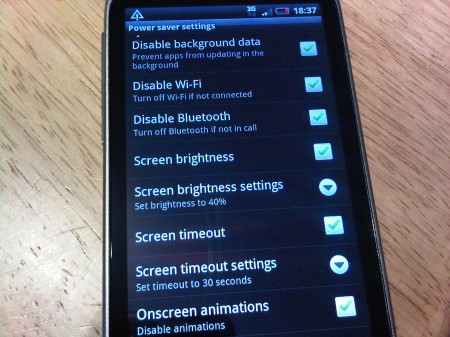 A new battery saver has been added which will restrict power use at a certain battery level. In tests we found that the Desire S lasted for around the same time as the original Desire. With my daily heavy use I was getting a days worth, however when the battery level hit 15% (or whatever you set it to) you can adjust screen brightness, screen timeout, WiFi, Bluetooth, background data, onscreen animations and anything else that could suck battery life. It is, as with everything on this phone, fully customizable.
A "Dock" option is also present in the settings now – this lets you tweak the auto-launch the Car Panel and changing whether you want to Auto-connect to Bluetooth devices.
DLNA capabilities have been included. This will let you beam media over WiFi – it's just a matter of choosing the media, choosing the player (your TV for example) and then watching it play on your TV. Boom.
The Camera and gallery application is again very familiar. You can switch from local pictures, Facebook pictures, Flickr images or shots from connected media – your local machines etc. Here's me connecting to a PC in my garage and looking around at pictures on the computer. Simple and easy.
Picture examples
Here's some shots from the 5 megapixel camera. Click each one for the larger image..
Video example
[yframe url='http://www.youtube.com/watch?v=97XNQ0OnzPE']
That new camera up-front doesn't seem to let you do standard 3G video calls. Video calls. Remember them ? A few years ago they were about to be "the next big thing" but no-one seems to use it. The Android interface didn't seem to let me initiate a video call, so I had to use a free video calling app – in this case Tango…
[yframe url='http://www.youtube.com/watch?v=imW8WCHFJY0′]
There's no dedicated camera button but you can place the camera or video camera shortcut on the main screen. It's simple to zoom in and the camera will focus onto any area of the screen you tap. There's a small icon which lets you switch to the face pointing camera too. A little app called "Mirror" will do this for you just in case you need to check yourself out. 🙂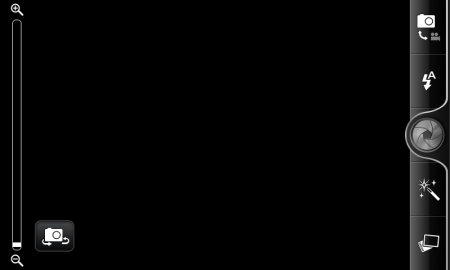 There's some special effects that can be added including "vignette". "vintage", "sepia" and more. It's easy to switch the flash on or off, dive into the gallery or switch to the video mode. If you hit your menu button there's even more settings including resolution, self timer, review duration, geo-tagging and face detection.
The gallery app itself is easy to use – just hold and slide to switch through images, tap the menu to set as your favourite, wallpaper, contact icon or footprints. If you select this then you can choose which area of the image to crop. A slideshow is available and you can show the GPS location of the photo if you turned on the geo-tagging. There's the ability to output the picture to a DLNA device of your choice too.
Tap the image to share the image, rotate it, add effects or crop.
The browser, which has multi-touch capabilities, is fast and renders pages just as you'd expect them. This latest version appears to have ironed out the tiny majority of pages that didn't render just right. You can zoom into pages, share them and do tabbed / window browsing. I can't find anything wrong with it. It just works.
Google Maps and Google Navigation will let you do all that funky Street View, satellite view and nosey-neighbour stuff plus you can switch on your internal compass and simply hold up the phone to look around the landscape by merely holding the phone in the air. The Google Navigation system is stunning in itself – free GPS sat-nav that is accurate and quick. It's just .. brilliant.
Other apps include YouTube, Google Talk, Teeter (the amazing tilt-sensor game), Stocks, a Voice Recorder and the in-built FriendStream system for pulling in updates from your friends across your social networks and integrating everything into your Contacts system. It's easy to find the texts, calls, Facebook updates and appointments for each contact by simply looking at that person.

Conclusion
A part of me wanted a little bit more. The original HTC Desire still stands up very well compared to this Desire S. This phone is better than the original Desire because of the additional camera, newer Android OS and better HTC Sense interface. I liked the fact that I could install more apps thanks to the additional on-board memory. I liked the tough but sexy build quality, and the camera up-front and I like those little tweaks like "Quick Settings" where you can drag down the Notification bar and switch WiFi, Bluetooth or GPS on or off quickly.  However, put this next to the Desire we reviewed earlier with the same Android 2.3 OS and the uprated HTC Sense interface and they suddenly become pretty similar.
Despite this I can't help but recommend the Desire S. It build on the success of the first Desire. Little touches such as the small reduction in size, the strong chassis and the ease of use make this one of the best HTC devices out there. I just wish it could do standard 3G video calls across the GSM network.
If you see a good deal on the "old" HTC Desire, get it – I cannot put that phone down and it still remains as my main handset. If you want the latest and greatest with all the tricks, more storage, an additional camera and a better form-factor, get this. It's a fantastic phone.
Videos
We filmed a number of hands-on videos with the Desire S which you can see below..
[yframe url='http://www.youtube.com/watch?v=-3n7-YVVLeU']
[yframe url='http://www.youtube.com/watch?v=-UuIYYBPkAA']
[yframe url='http://www.youtube.com/watch?v=Qiv_nKZ3Hc8′]
[yframe url='http://www.youtube.com/watch?v=_l7M3W_3R5w']