The Samsung Galaxy Tab has been around for a little while now and along with the Apple iPad started a new craze of tablet devices to keep people connected on the move.
I first got hands on the Tab last October at a Three event in London and was really impressed with the overall size, design and quality of the product.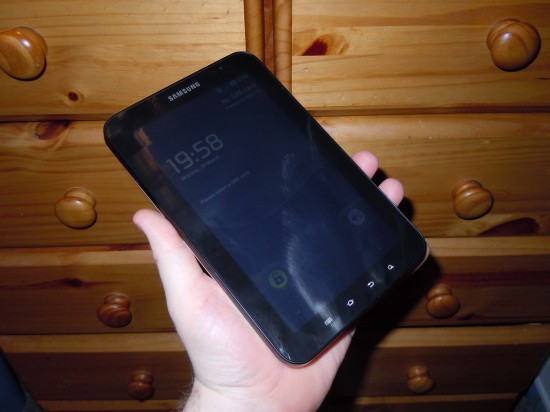 With a whole new range of tablets coming out using Android and of course the popular iPad 2 now on sale the big question for everyone is 'What size is best?'.  For me the Galaxy Tab as perfect for my needs, as you can see above it can easily be held in one hand and use the other for tapping on the screen or you can hold it in both hands and have the perfect spacing for using the large keyboard.
You also have a front facing camera used for video calls which when paired with a good data plan or a WiFi connection is really good and most times great quality.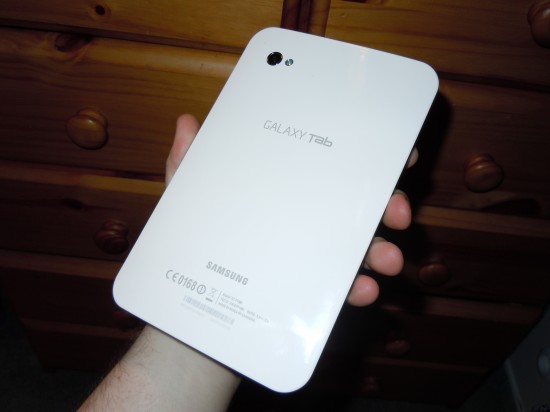 You also get a 3 megapixel camera on the back whcih takes reasonable photos, not as good as the phones from Samsung but it is nice to have a camera there, especially as the new iPad has only just got a camera for photos and videos.
Web browsing comers with Flash and full access to the Android Market for downloading apps and this is great for when you are on the move and not wanting to take your laptop around with you.
The big shame is that it will not be running 3.0 Honeycomb which is the future OS for Android tablets, instead if runs on Froyo 2.2.  For me if you can get a Galaxy Tab running 3.0 I would have my perfecty tablet, a n always connected device which slips into a coat pocket meaning no laptop bag needed or carry case in your hands for your tablet.
The Galaxy Tab was kindly laoned to us by Vodafone earlier for the review we did and also to use to compare to other tablets on the market.
Vodafone have the Smasung Galaxy Tab on sale with three price plans all based on sim only 30 day rolling deals and they are available in store and online and these are
£3.00 a month and then pay £2 for each 250MB used.  The Tab costs £399
£7.50 a month for 500MB in a month and then the same for every 500mb over.  The Tab costs £399
£7.50 a month for 2GB in a month and 1GB Openzone WiFi.  The Tab costs £399
Thanks to Vodafone for supplying us with a Galaxy Tab to use for a short time to be able to compare to other tablets on the market but also for me as someone who was very unsure about getting a tablet after using the Tab i have decided I can make some good use of one and will be purchasing a tablet of my own soon.
Link: Vodafone Galaxy Tab