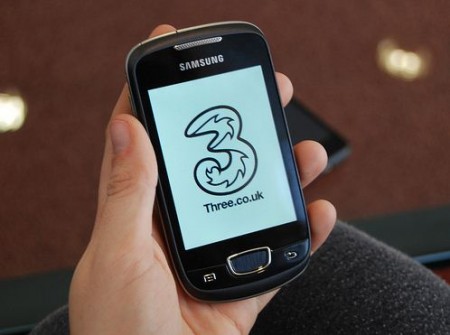 Another phone to become available on Three today is the Samsung Galaxy Mini. It's powered by Android 2.2.1 and has a 3.14 capacitive screen. It also has a 3 megapixel camera, GPS, WiFi an portable WiFi hotspot capability.
You can get this for £15 a month on a contract or £25 with The One Plan. Pay As You Go customers can pick up the handset for £99.
Link – Three.co.uk
Samsung Galaxy Mini now available on Three.

The Samsung Galaxy Mini is available today from Three stores and online at three.co.uk.

This Android 2.2.1(Froyo+) smartphone has a 3.14" capacitive touchscreen, which makes it quick to respond while browsing the 1,000's of apps on the Android Market or when browsing the web.

Sylvia Chind Head of Branded Devices said, "The Samsung Galaxy Mini is a great compact phone that punches well above its size. This entry level handset doesn't compromise on features and supports a great mobile internet experience over our fast 3G network."

Key features include:

• Android Froyo+ version 2.2.1
• 3.14"Capacitive touch screen
• Phonebook integrated with social networks
• Portable Wi-Fi Hotspot capabilities
• 3MP Full Focus Camera
• GPS
• Wi-Fi
• Live wallpapers

The Samsung Galaxy Mini is available from just £15 a month on contract or £25 a month on The One Plan with All-You-Can-Eat Data, 2000 anytime, any network minutes, 5000 texts.

PAYG customers can enjoy the Samsung Galaxy Mini for £99. All in One 15 costs £15 and gives 30-days access to all-you-can-eat data along with 300 any-network minutes and 3,000 texts. Or All in One 25 costs £25 and offers 500 minutes, 3,000 texts and all-you-can-eat data for a 30-day period.

Follow us at @ThreeUK on Twitter for the latest product announcements.