Today at the CTIA Event Samsung announced two new tablets.
First up is the 10.1″ version. Samsung have totally changed this from what was shown at earlier shows this year (CES/MWC), basically they appear to have responded to the just released ipad2,reducing the thickness of the device from 10.9mm to a market leading 8.6mm!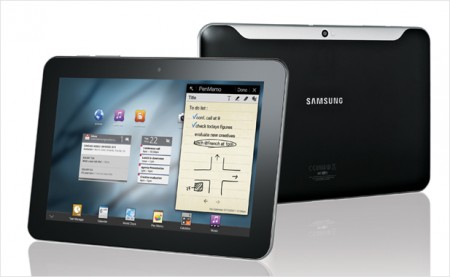 Running a dual core 1Ghz cpu and a PLS Display that is supposed to be as good as Apples Retina display, this tab is certainly a welcome entry to this soon to be busy sector of the marketplace.
Second up is the 8.9″ Tablet
Unsurprisingly this has an 8.9″ screen with WXGA Resolution and weighs just 470 grams, a slightly smaller battery ( 6000mAh compared to 6800 for the 10.1″) is about all that is different, both sharing very similar specifications.

Both Tabs have 3mp rear cameras with 720p video recording, 2mp front cameras, both are running Android 3.0 Honeycomb and Samsungs 'Touchwiz 4.0' User interface.
Possibly the best news is that Samsung have responded to Apples competitive pricing of the ipad, the 8.9″ version starts at $469 and the 10.1″ version at $499, the 10.1″ will be available from the 8th of June in the US and 'Early summer' for the 8.9″
Fingers crossed that it gets a quick release over here ( UK) and we don't get stitched up with the pricing!