Comscore recently released it's updated figures for US Smartphone sales and it was good news for Android fans and bad news for Rim and Microsoft.
Smartphone market share for Google/Android went up from 23% to 31%, just nudging ahead of Rim(Blackberry) on 30% a jump of 7%, a figure that was reflected by Rims drop of 5.5%.
Apple maintained a steady share, that could be considered poor in a growing market. Palm/Webos dropped slightly,as you'd expect and Microsoft dropped a couple of points, disappointing considering their latest and greatest operating system has had it's launch and should hopefully have started to gain some market share.
Most alarming thing for Googles competitors is that these figures are only the three months from November to January!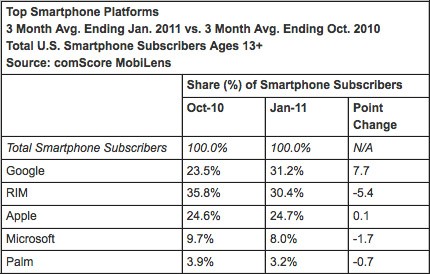 Sources: Android community Comscore