I first used SPB apps many years ago on my T-Mobile Ameo. It came bundled with the original version of this app. In those days SPB were one of the premium app developers for windows mobile. In the last few months they have redesigned SPB Shell which is currently being beta tested and in the last few days they have released SPB Wireless Monitor which is now in the Android Market.
The basic idea behind the app is to collect information about how much data you have been using and present it in a nice easy to understand way. It is split into six different parts, Application Report, Traffic Report, Alarms, Tariffs, Export and Settings.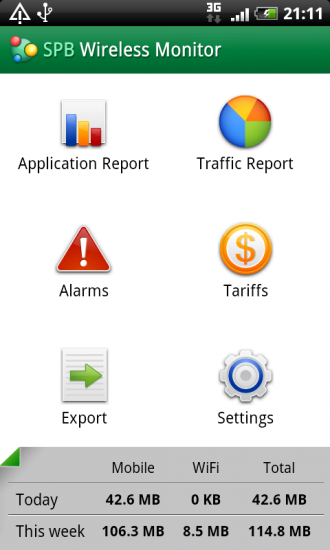 The Application Report is what sets this app apart from others, it will show you an app by app breakdowns of what has been using up your mobile data, this can be filtered by either today, this week, this month or a custom filter. The green part of the bars is for incoming traffic and the yellow part is for outgoing traffic.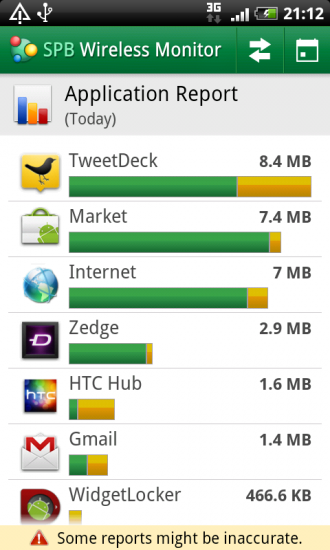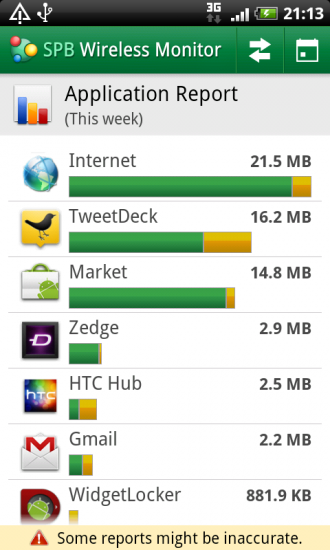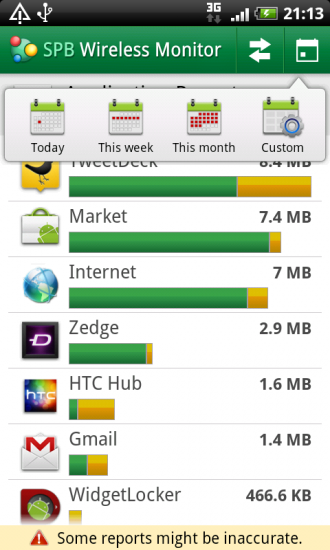 If a certain app looks like it has been eating rather a lot of data you can click on it and you get an hour by hour breakdown or day by day breakdown dependant on the previous filter. So you can see that mid morning and mid afternoon the web browser was eating up data.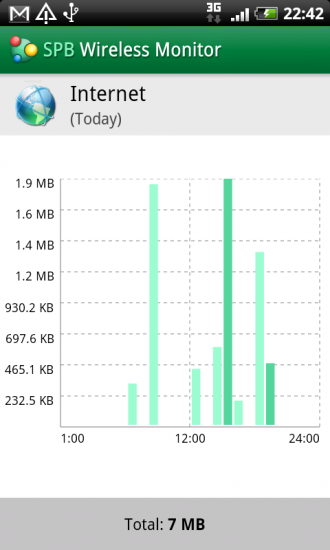 The Traffic Report will show you how much data you used in total per hour in the current day or per day in the current week, you can also set up a custom filter again. The traffic report also has a wifi tab which will show totals for wifi data as well.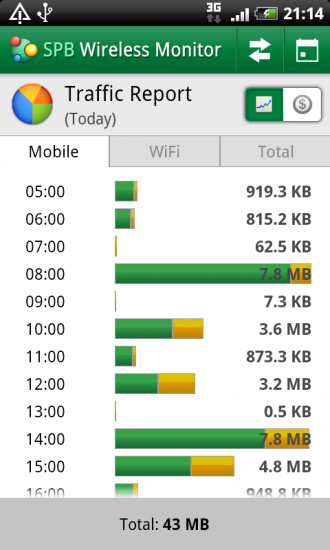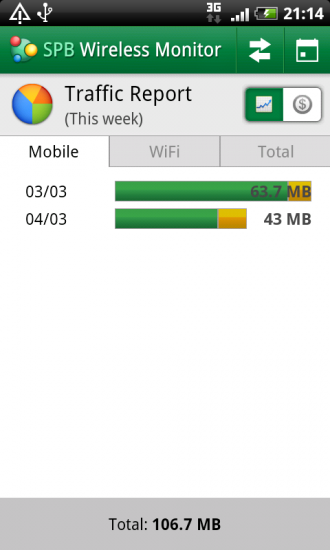 Alarms is a fairly simple section where you can set an alarm for either the day or the month so that when you hit a certain percentage of your total allowance it will warn you.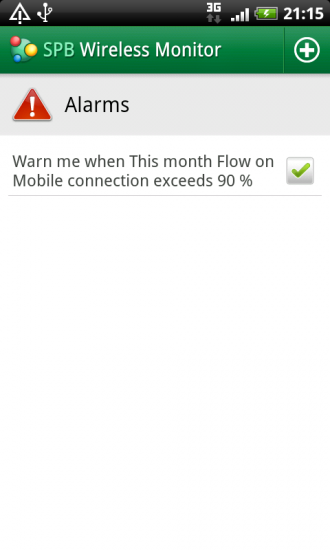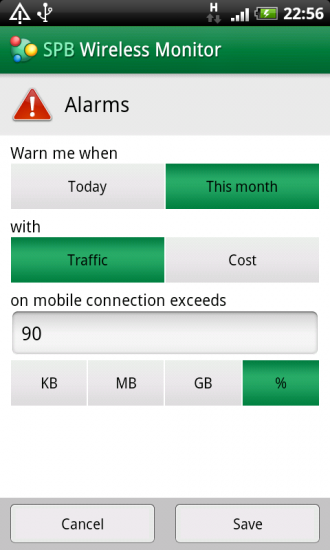 Tariffs is where things start to get a bit complicated. You will need to know exactly how much data you get per month. If you are on a pay as you go data tariff then you can enter the various costs per mb. It also has hundreds of preset tariffs already built in, mine was not (T-Mobile UK Android Tariff).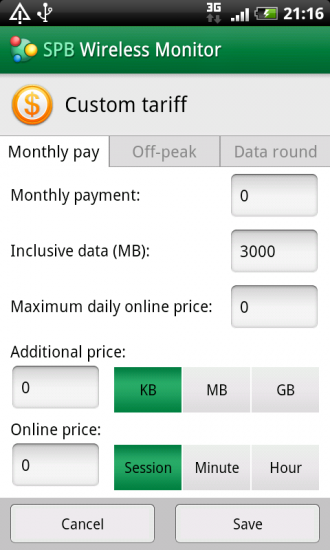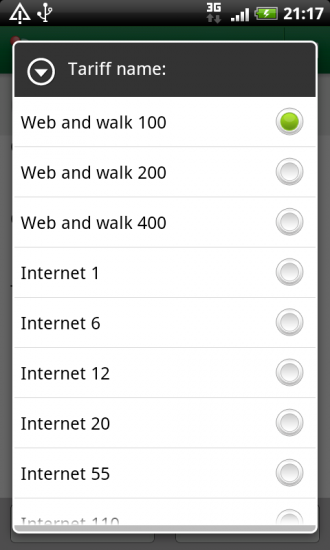 Export does what you would expect. You can basically create a .csv file of the chosen data, it will save it to your sd card. Quite what you would do with this I'm not sure.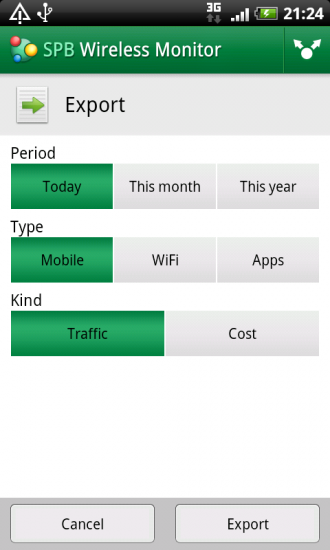 The app does include a handy widget for you homescreen as well. This lets you see you total for today, this month or this year.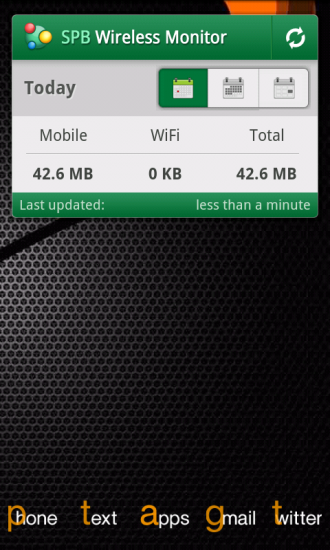 The settings sections has a few settings that do not really seem to make any difference. Please get in touch if you really need a screenshot of these!
Overall it is a amazing app that offers way more options and reporting than any other data monitoring program I have come across. Being able to drill down each application to the hour is incredibly useful. For instance HTC Hub had used 1.6mb when I took the screenshot and a few hours later it was up to 1.7mb, it ate up most of that mid afternoon. I do not use HTC Hub so what was it up to? The traffic was outgoing as well! Is HTC checking in?
I have missed out one vital problem with this app. That is the cost, it costs £6.12, which I think is a little over priced. The sweet spot for most apps seems to be around £2, over that a lot of people start to wonder if a free version is available. A lot of work has obviously been put into this app but I could not justify that much for an app that is similar to a lot of free apps.
Link – SPB Wireless Monitor