As was mentioned in a post a while back Vodafone kindly loaned me a Apple iPhone4 to use whilst at MWC in Barcelona.  This was ideal for me as I am already a Vodafone customer and had a contract which gave me 25MB a day to use whilst roaming in Spain.
I was able to tweet from the event and catch up with news and tweets whilst on the metro traveling on the 30 minute trip to and from the hotel and also in the restaurant in the evening for dinner.  Although 25MB does not go a massive way it was much better than the old offer of 5MB and was nice to be able to use data whilst roaming and not worry much about the cost.
Due to needing some high quality images for the site I did not use the camera or video recorder for coverage, I did snap a few photos from the hotel though to share with family and friends, here are two of them.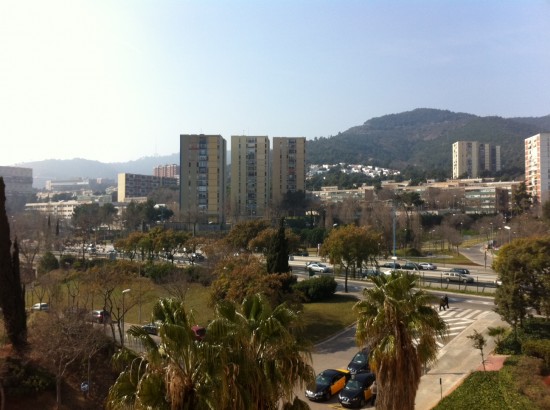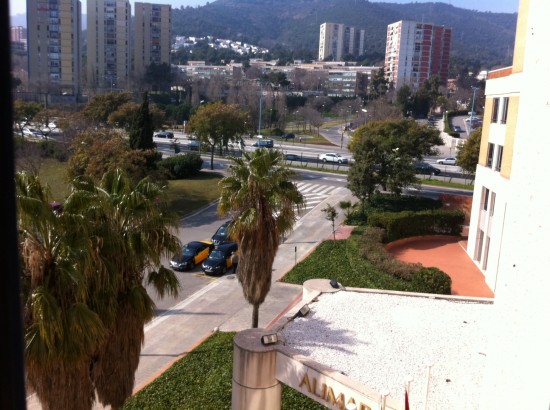 The iPhone for me was all about the apps available and how easy it made using the phone.  Not too long ago apps were a rare thing and for things like checking your bank balance on a phone this was a long process if even possible on a lot of devices.  However the NatWest app was very handy allowing me to check a payment into my account had cleared whilst sitting in the press area, I was also able to use AudioBoo to record some audio updates for another site I write for and all of the #AYCEonThree AudioBoo updates have been from the iPhone too.
Whilst battery was my main concern due to needing to put the iPhone through heavy use, when i did not need data I found turning off 3G and Location Services was enough to give the battery the extra life needed to get through the day.
For me personally whilst Android has the great widget support which is handy for apps like 3G Watchdog to track data use and is really easy to customise, iOS has better applications on the whole and all in a great looking package.
A massive thank you to Vodafone who loaned me a iPhone 4 for the trip to Barcelona, it was a real joy to use and if anything made my decision on what phone to purchase next a whole lot harder by including the iPhone 4 or iPhone 5 in that list where as before I would have been focussing on Android.
You can purchase an iPhone from Vodafone on both Pay As You Go and Contract by visiting an online store, over the phone, online or direct from Apple
Links: Vodafone iPhone 4 – Apple iPhone 4