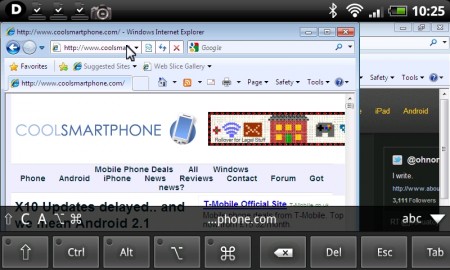 There's a few VNC viewers already kicking around the Android Market but, during Mobile World Congress, the official app was announced by VNC themselves. VNC is a system that allows remote access into machines across the web and operates a little like RDP (Remote Desktop). To get it running on your system you first install the server software then connect to it from a remote device such as a laptop or, in this case, your Android handset.
The new viewer, which costs £5.99, gives you a trackpad-style mouse with drag and tap gestures plus pinch / zoom. We gave it a spin whilst at Mobile World Congress and particularly liked the speed and smoothness of the app. It's really easy to control your home or work machine and the addition of the Ctrl / Alt / Home / End / Page Up and other keys was really beneficial. I also liked the fact that several different profiles could be setup so that you can have quick control of several machines.
Grab it on the link below or check out our screen shots..
Link – VNC (Android Market)