Rumours have been bouncing around the web for a number of days now but we can finally give you the official information. Microsoft is to begin an incremental update to Windows Phone 7 owners beginning today. It should be noted however that this is not the copy and paste update you've all been waiting for. It's said to improve the software update process itself and is similar to other "pre-update" patches we've seen on Android handsets.
As is common with handset updates this won't go out to all handsets at the same time, so don't worry if someone else has the pre-update update and you don't – it will come. To update your phone you can either tether your device to a computer and use the Zune software or use the Windows Phone 7 Connector for Mac. If you get stuck there's a great step-by-step guide, but do ensure that your Zune software / Windows Phone 7 connector is updated, then restart and then reconnect the phone.
We'd love to know if you've received the update, so do let us know in the comments. Don't forget that the copy and paste update itself should arrive next month.
Update – A select few people are getting an error but it seems to be a very tiny amount of customers at the moment. This is the error message you don't want to get … (Thanks Arne)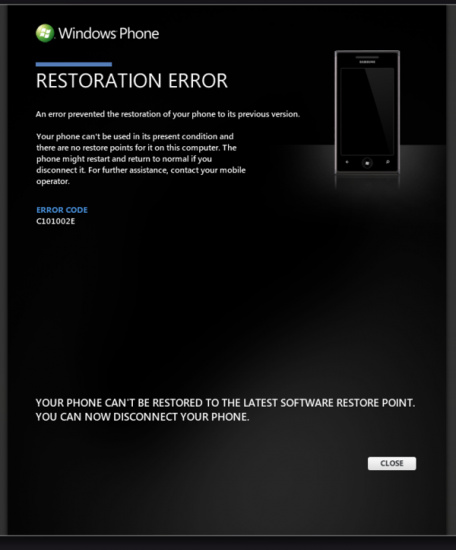 Links – Windows Phone 7 Update History – Copy and Paste Update Details