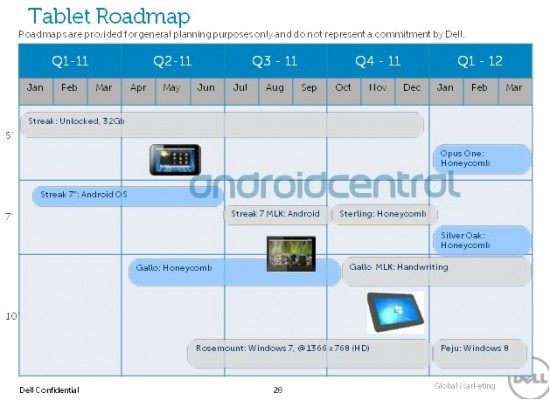 Dell have just experienced a leak of epic proportions. Their 2011 roadmap has just spilled all over the web and includes the Wrigley, Gallo, Sterling and many other strange codenames. Windows 8 is even mentioned here as a supposed OS for their "Peju" device scheduled Q1 / Q2 2012.
Android tablets running Honeycomb (the tablet-tweaked version of Android) will appear begin in April this year with the "Gallo", followed by a Windows 7 device called the "Rosemount" with a 1366×768 screen, then a Streak 7, Sterling (with Honetcomb) and several other Android Tablets. Beginning in 2012 there's two other Honeycomb-equipped devices – the Opus One and Silver Oak. Yes, just in case this last week hasn't already let you know, the Android tablet market is exploding.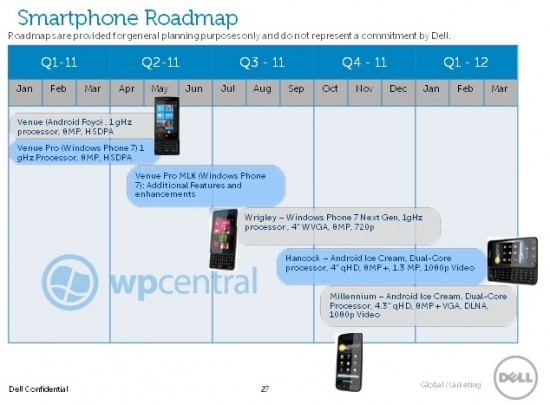 As for smartphones Dell have the Venue Pro – a Windows Phone 7 device – coming in April. Hopefully it'll include the big Windows Phone 7 OS update by then. A few months later in Q3 there's another Windows Phone 7 handset – the Wrigley. This is said to have a 1GHz CPU, 4″ WVGA screen, 8 megapixel camera and 720p HD video recording. Following this there's two Android smartphones on the cards – both powered by Android Ice Cream, both with dual-core CPU's and bot with 1080p video playback. The Dell Hancock features a 4″ qHD screen, 8 megapixel rear camera and 1.3 megapixel front camera. Shortly after the Dell Millennium should appear with a 4.3″ qHD screen, 8 megpixel rear camera plus VGA face-mounted camera and DLNA media streaming. These last two devices seem to confirm that Android Ice Cream will be ready for September 2011.
Links – Android Central – Android Central – Windows Phone Central